CauseImpact & Innovation Catalyst
discovering and creating new revenue streams for your organization
Purpose drives effective not-for-profits. And to remain sustainable, all organizations, including not-for-profits, need revenue. In addition to contributions and grants, what keeps the lights on at your organization? What if you could identify a new stream of revenue that supported—even amplified—the impact of your work?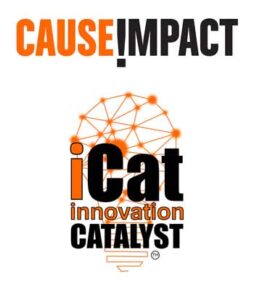 With a commitment to empowering organizations serving our community, CICF and its affiliates, The Indianapolis Foundation and Hamilton County Community Foundation, partnered with CauseImpact to offer a premier cohort consulting package to a select number of agencies to develop new, more sustainable initiatives. The Innovation Catalyst program will begin in August 2021 and will conclude at a final pitch celebration in May 2022. Each participating organization will complete an agency business plan for a new launch-ready venture or business model, with the goal of diversifying your organization's revenue streams.
Through investments from the affiliates of CICF, matching funds will subsidize most of the cost. Each participating agency will be responsible for 25% of the cost of delivering the program (approximately $4,250).
Organizations considering participation must:
be a registered 501c3 not-for-profit organization located in Marion or Hamilton county
submit a completed application by Friday, June 11, 2021 (online application below)
provide an investment of $4,250 (25% of total program cost)
have executive leaders and at least one board member participate in an online interview on either Wednesday, June 23 or Thursday, June 24 (interviews will be scheduled as finalists are selected)
Commit to full participation in the Innovation Catalyst program:

designate this project as a strategic priority
build an Impact Team (a description of the Impact Team is below)
assign a project leader from the agency's leadership team
participate in group sessions and plan presentations (schedule TBD)
develop over the course of the program, a detailed business plan to launch-ready status
participate in a concluding presentation of the business plan development process to the program funders and the community in April 2022
---
The Impact Team
The Impact Team is responsible for guiding the process of program review and new venture development. Functionally, the team is led by the executive director or CEO and makes recommendations to the organization's board. The team is recruited by the executive director or CEO, with help from the board chair and/or an internal champion. In most cases, the internal champion organizes and facilitates the catalyst meetings, with assistance from outside counsel. Organizations that are selected to participate will collaborate with cross-sector community partners included on the Impact Team.
TEAM ROLE AND RESPONSIBILITIES
offer advice and guidance based on experience in entrepreneurial business, marketing, and/or strategic planning
challenge assumptions and ask questions, acting as skeptics when necessary in order to keep plans firmly grounded in reality
assist in establishing evaluation criteria, reviewing program analysis results, and making recommendations regarding re-balancing of resources
serve as a sounding board for the project management team as information and research findings are presented
assist in the opportunity research or feasibility study phase by offering ideas on resources for information and community connections
take an active and vocal role in providing the organization with a fresh perspective
assist in analyzing the results of the planning process and formulating recommendations to the board of directors regarding next action steps
share business expertise in various aspects of organizational management: human resource development, marketing, financial systems, cost/benefit analysis, and services expertise
help the organization develop market positioning and strategies for key products and services or develop business plan outlines for new high potential ideas
serve as a guide for implementation, and provide feedback from general community stakeholders
---
Application to Participate
Deadline is Friday, June 11, 2021