Resources for applicants of the Elevation Grant Program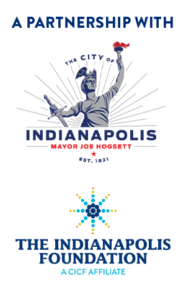 The Elevation Grant Program (previously the Violent Crime Reduction Grant Program) will invest $45 million in neighborhoods over the next three years to address root causes of violent crime in Indianapolis through neighborhood empowerment and community building. The revitalized initiative was conceived with unprecedented community input, leading to a new name and a commitment to elevating community abundance over challenges.
---
Multiple opportunities and events are available to help answer questions about the program, federal funding requirements, and assist in grant applications.
---
View the slide deck from the previous information sessions. Or watch the full recording of one of those sessions.
We also hosted a special session on focused on budget development. View that slide deck. Watch that recording here.
---
Grantmaking clinic to assist with the application:
registration is now closed.
---
The Indianapolis Foundation hosted several grant preparation clinics for the previous round to provide application assistance. Please reference the following resources, which were shared as a part of these clinics.
Various handouts were distributed at the clinics, including:
---
office hours
Hector Morales Hernandez, grants coordinator at CICF, will also provide office hours to assist with the online grant system. All office hours will be available by Zoom:
Thursday, July 21 from 10 a.m. – 3:30 p.m.

Meeting ID: 885 7583 5342

Friday, July 22 from 10 a.m. – 3:30 p.m.

Meeting ID: 868 1472 6401
---
additional Resources
GENERAL INFORMATION
RELATED WEBINARS
COMMUNITY-BASED VIOLENCE PREVENTION
RISK & PROTECTIVE FACTORS
CDC ONLINE TRAINING