IMPACT Central Indiana
What if the grant you made to an organization could be recycled and the impact spread amongst multiple efforts? This is social-impact investing, and it's the idea behind IMPACT Central Indiana.
---
Rather than making a one-time grant to an organization, these investments support both for-profit and not-for-profit organizations that benefit the community and the economy. Think of it as recycling philanthropy. Social impact investments can earn interest and may return the initial investment and later be reinvested into future endeavors. 
IMPACT Central Indiana is a multi-member LLC created by Central Indiana Community Foundation, The Indianapolis Foundation, and Hamilton County Community Foundation. Its goal is to facilitate social impact investments into businesses, funds, entrepreneurs and not-for-profit organizations that generate positive and measurable social impact in the community.
Recycling Philanthropy: How it Works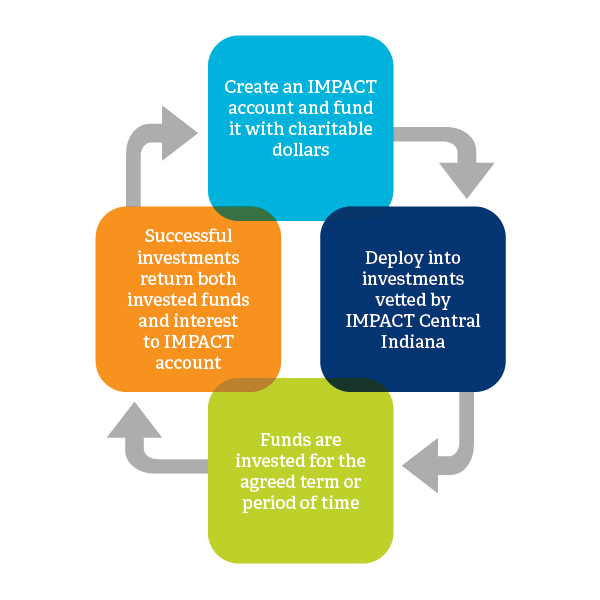 Future investment opportunities are being developed in the following areas:
affordable housing
inclusive economic growth
philanthropic innovation
business and enterprises led by diverse communities
and account holder directed investments
IMPACT Central Indiana is designed to take your philanthropy further. An IMPACT account can be created from an existing donor-advised fund or through new assets. 
---
Open a fund today