The Need
As Indiana's population ages, it is projected that there will be a dramatic shift in the demographics of the state. The oldest Baby Boomers reached age 65 in 2011, and by 2030 one in five older adults will be of traditional retirement age. [1] Rapid increases in the older adult population will dramatically increase the need for services and supports of the aging population and attention to equity-related issues faced by older adult subpopulations.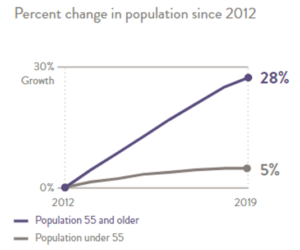 The Central Indiana Senior Fund provides support to not-for-profit organizations whose programs and services promote quality living for older adults in Central Indiana. It is specifically interested in organizations that address the following areas of interest:
Basic Needs
The basic needs of older adults include access to nutritious food, transportation services, emergency services and shelter, case management, elder violence reduction, and local guardianship programs.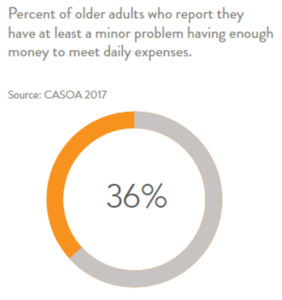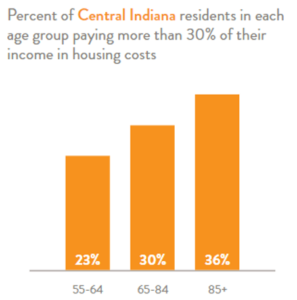 Health and Wellness
Good health and wellness among older adults requires access to health education; intervention services for older adults, in-home health care, prevention and screening; and outcome-based neighborhood community wellness and fitness programs.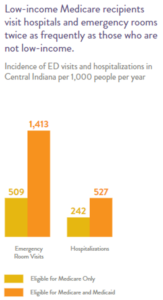 Living Environment of Choice
Empowering adults to grow older where they choose requires establishing and maintaining affordable and supportive housing for older adults, providing home care and maintenance services that enable older adults to safely remain in their homes, promoting projects that increase neighborhood safety, and supporting efforts to strengthen and enhance quality residential care programs for low-income older adults.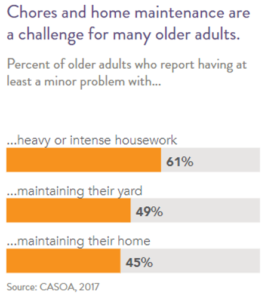 Life-Affirming Opportunities
Opportunities for older adults to utilize their talents and resources is important to improving their overall quality of life. These opportunities include increased access to cultural and education opportunities, work training and job placement, life-long learning, civic engagement, and social and recreation activities that increase social interaction.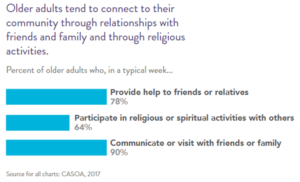 ---
[1] Rachel Strange, "Indiana's Elderly Population Projected to Climb Sharply," August 2018, http://www.incontext.indiana.edu/2018/july-aug/article2.asp
[2] U.S. Census Bureau, Public Use Microdata Sample, American Community Survey 2015-2019 five-year estimates. Unless otherwise specified, this is the source for all statistics mentioned on this page.
[3] National Research Center, "CICOA Aging and In-Home Solutions Full Report," Community Assessment Survey for Older Adults (TM), 2017, https://cicoa.org/wp-content/uploads/2019/11/Indiana-CASOA-Report-2017-FINAL.pdf
[4] Centers for Disease Control and Prevention, WONDER
[5] Centers for Medicare and Medicaid Services
[6] National Research Center, 2017. Living environment of choice data originates from the CASOA survey.
[7] National Research Center, 2017
[8] National Research Center, 2017