The Indianapolis Foundation
Library Fund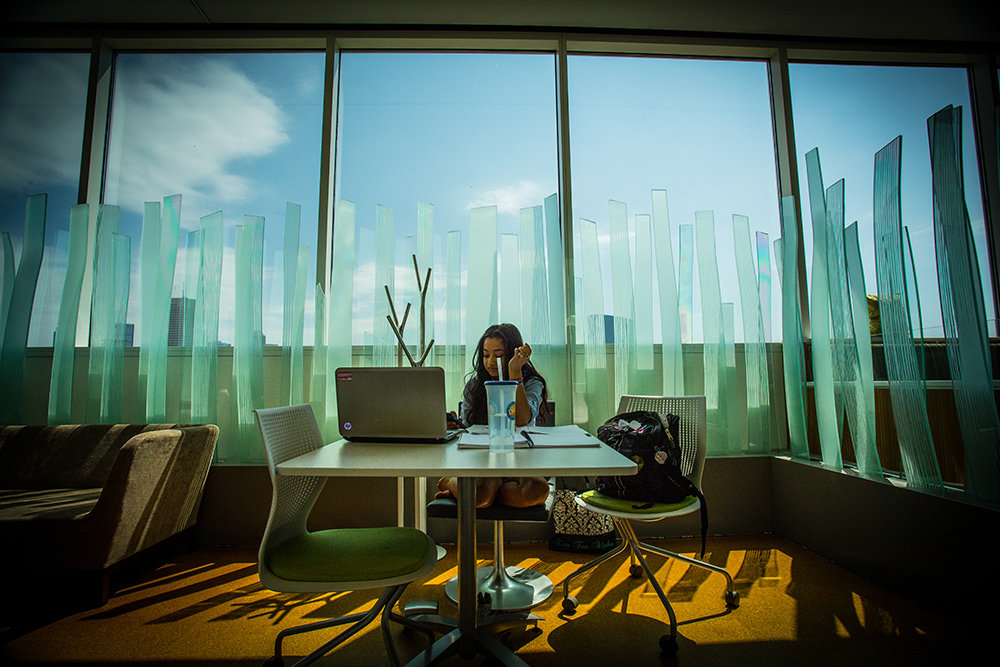 An anonymous donor established The Library Fund in 1989 to benefit designated public, academic, and high school libraries in Marion County.
It has awarded more than $23.3 million since its inception to increase literacy, information literacy, and information access for Marion County residents. The Library Fund is a field-of-interest fund of The Indianapolis Foundation (a CICF affiliate).
Eligible libraries make use of the fund for innovative programs like these:
IUPUI's University Library and its Center for Service Learning are using a $30,594 grant to engage college students in family literacy programs for low-income and Hispanic residents on the Near Westside of Indianapolis.
The Franklin branch library, as well as the high school libraries of Arsenal Tech, Beech Grove, Roncalli, and Southport, used small grants to test new programs encouraging youth to read.
www.ilibrary.org, with an annual grant of more than $500,000, provides free access to print resources not otherwise available at any school or library building in Marion County, and to anyone who has a public library card in Marion County. Resources include newspaper, journal, and magazine articles; information from standard library reference sources; and collections of resources designed to enhance student learning and achievement.
The Indianapolis Foundation Library Fund will be accepting applications soon to support innovative projects from multiple libraries in Marion County. Priority consideration will be given to those libraries that are able to present a compelling case for support based on need, request support that is not a part of general operating budgets, and has predetermined desired outcomes explicitly stating how resources will impact the Marion County community, our residents and/or students. All high school libraries are encouraged to apply for a collection development grant. Decisions regarding high school collection development grants will be made by the foundation this fall. All other decisions will be made in early 2016.
The Indianapolis Foundation Library Fund has three primary grant programs:

Library Fund Grants
The Library Fund accepts general applications from all eligible libraries, including all Marion County high schools and their respective libraries, to support innovative programs that have the potential of demonstrating impact.
Geographic Restriction:  Marion County
Funding Restriction: The Indianapolis Public Library, any high school library (public or private) and libraries at IUPUI, Marian University and University of Indianapolis
Grant award range: Varies
Grantmaking:
The Indianapolis Foundation Library Fund accepts grant applications:
2016:     March 15 – April 15
Click here to complete The Indianapolis Foundation Library Fund Grant application.
High School Collection Development Grants
High school libraries are also encouraged to submit a grant application to support high quality collections and resources. While all high schools may apply for a general Library Fund grant, the high school development grant program is specifically focused on improving collections, technology and access to resources for high school students.
Geographic Restriction:  Marion County
Grant Award Range: Based on High School Student Enrollment
Funding Restriction: Any Marion County High School Library
Marion County high school media centers with at least one full time licensed media specialist are eligible to be considered for Library Fund grants. Please note that "full time" means assigned to the Media Center full time. The proposed development of your school's collections must have proper oversight in the implementation and use of funds. If your high school's licensed Media Specialist has classroom teaching responsibilities, then your high school media center may not be eligible for this grant. Please contact Julie Wright at juliew@cicf.org with any questions.
Minde Browning Professional Development Fund
The purpose of the Minde Browning Fund is to provide small professional development grants to professionals serving in any of the eligible Marion County libraries.
Grant Award Range: Up to $1,000
Geographic Restriction:  Marion County
Grantmaking:
Minde Browning applications are accepted throughout the year and decisions are made on a first come, first serves basis.
Click here to complete the Minde Browning Professional Development application.
---
For questions about The Indianapolis Foundation Library Fund, please contact Julie Wright at juliew@cicf.org.