Grantmaking for
Central Indiana Racial Equity Fund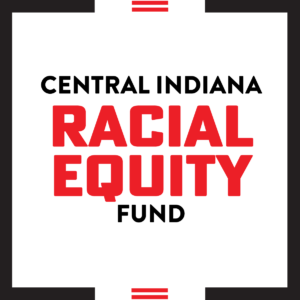 Central Indiana Racial Equity Fund (CIREF) was established in June 2020 by a coalition of local stakeholders committing $2.2 million to advance effective solutions to racial inequality. Learn more about the fund.  
The fund seeks to address the inequities in our criminal legal systems that unfairly target, penalize, and disrupt the lives of Black residents in Central Indiana. During its first round, the fund awarded a total of $519,000 to 11 organizations proposing innovative solutions to address challenges Black youth involved in the criminal legal system and adults face in securing employment, completing education, and accessing food, in addition to undertaking various community-building engagements.
---
GRANTMAKING
Before launching its final round, CIREF engaged local residents and not-for-profit leaders and explored how traditional grantmaking disproportionally affects Black neighborhoods and Black-led organizations. This engagement included two community conversations in the fall of 2020. Leaders acknowledged while program-specific funding is crucial, there are few opportunities for Black-led organizations to access funding to strengthen internal infrastructure. Leaders desirous of expanding their organizations often struggle to secure external help to write grant proposals, implement fundraising campaigns or integrate data management, evaluation, or financial management systems to monitor program performance and financial reporting.
There are limited opportunities to scale up existing work with new strategies for many organizations operating successful programs. Typical one-year grants often restrict organizations' ability to implement and demonstrate impactful outcomes— especially in working with specific populations. Relative to organizations being positioned to scale up their work, CIREF believes leveraging social capital and building authentic partnerships with Black-led organizations help shift power in advancing large-scale collaborative opportunities to achieve transformational community outcomes.
CIREF has prioritized capacity-building for its final grantmaking round. More specifically, the fund seeks to invest in building the internal infrastructure of Black-led organizations and organizations prepared to scale up existing programs aligned with the CIREF priorities. The strategic investment in building the capacity of Black-led organizations reflects an important legacy for the fund in supporting the fight for racial and equitable justice in Central Indiana.
Geographic Area
CIREF supports work taking place in Central Indiana that includes Marion County and the surrounding Boone, Hamilton, Hancock, Hendricks, Johnson, Morgan, and Shelby Counties.
All applicants must demonstrate resident engagement for the proposed project or funding request submitted.
Priorities
CIREF prioritizes building the capacity of Black-led organizations and other not-for-profits that are working to address one or more of the CIREF funding priorities:
improving interactions between the Black community and Central Indiana law enforcement departments and agencies
reducing Black representation in the juvenile and criminal justice system by providing positive alternatives for education and employment
increasing employment and wealth opportunity for Black communities, in particular, as it relates to matters of criminal justice, re-entry, and police interactions
In addition to looking for successful programs aligned with the CIREF priorities, the steering committee is especially interested in organizations proposing:
solutions to reduce the number of Black people impacted by violence and the criminal justice system by providing targeted interventions focused on perpetrators or victims of crime
innovative examples to address the chronic trauma and mental health needs pervasive throughout the community, recognizing some of the cultural apprehension around accessing health services
the integration of proven program models that build trust among residents and leverage strength from within the community to help change the current negative societal narrative characterizing Black neighborhoods
CIREF recognizes that investment in capacity-building requires more time as organizations engage in planning or implement new systems to support key areas of the organization. As a result, grant awards in both categories have been extended for up to two years.
---
To support the widest possible range of organizations, the steering committee established two capacity-building categories for eligible organizations.
The deadline to apply for both categories is noon on Friday, May 14.
All applicants for both categories will be notified of the steering committee's final decisions by June 30.
CATEGORY A
Category A provides capacity-building funding specifically for Black-led organizations in Central Indiana that are currently implementing programs aligned with the CIREF priorities. Grant funds must be used to strengthen the organization's internal infrastructure and can be used over a period of up to two years.
CATEGORY b
Category B is open to organizations in Central Indiana that are 1) successfully engaged in work aligned with the CIREF priorities and 2) seeking to implement a scaling strategy to achieve greater outcomes. Non-Black-led organizations may apply for Category B funding, but to encourage greater collaboration among diverse organizations, the fund requires non-Black-led organizations to partner with a Black-led organization to implement the scaling strategies.
---
For support with the application process or questions, we have multiple opportunities to connect with us. Learn more.
---
Reporting
All grant recipients will be required to submit a formal report to CICF upon completion of the grant and made available to the CIREF Committee for review. Grant reports may be submitted no later than December 31.
Access the report here. If awarded,  please download and complete the report form provided.
---
Frequently asked questions
---
For support with the application process or questions, we have multiple opportunities to connect with us. Learn more and register for one of our workshops or office hours sessions.