Advancing Racial Equity & Dismantling Racist Systems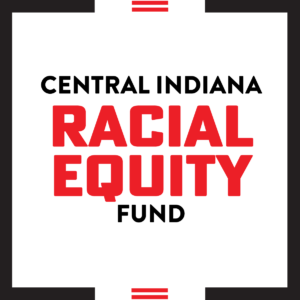 Equity requires amplifying community voice in critical conversations, increased access to resources, and a redistribution of power to ensure fair and just inclusion in society so that all populations may prosper equally.
We are committed to addressing the inequities in our criminal justice systems that unfairly target, penalize, and disrupt the lives of African-American residents in Central Indiana. This fund has been established to provide for bold and innovative solutions that treat people with dignity and respect and provide positive opportunities for African-American justice-involved youth and adults while also attacking the implicit biases and racist systems that disproportionately derail their lives. It will be executed to ensure that equity is both applied to its processes and achieved through the outcomes its investments will produce.
We seek to shift the tone of race and community, ensuring that our African-American residents are both valued and recognized for their potential, talent, and the impact they can make on our Central Indiana community. Our investments will be informed by the community and be made with the expectation that funds be used to address, decrease or deter African-American residents, both youth and adult, from becoming justice-involved or reoffending, while considering the root causes of these inequities.
---
Impact Area
The Central Indiana Racial Equity Fund (CIREF) efforts taking place in Indianapolis and the surrounding Boone, Hamilton, Hancock, Hendricks, Johnson, Morgan, and Shelby Counties. While organizations in these areas are eligible for CIREF consideration, of paramount consideration is that this fund has been established for the direct support of African American residents in Central Indiana with funds being distributed accordingly.
All applicants must demonstrate resident engagement for the proposed project or funding request submitted.
---
Grantmaking DETAILS
The CIREF will conduct three competitive grant rounds in 2020-2021, each of which will be informed by the community and work toward the overarching purpose of addressing racial inequities within the criminal justice system through slightly different processes.
Each CIREF grant round will have a distinct area of focus:
The 'responsive' round will respond to the needs of the community
The 'targeted' Round will target areas of interest that have been defined by the CIREF Community Conversations and are in relation to the priority areas defined below.
The 'systems' Round will seek to address systemic issues impacting racial inequities in the priority areas defined below.
Additional information will be forthcoming related to the administration of both the 'Targeted' and 'Systems' Rounds.
Timeline
| | | | | |
| --- | --- | --- | --- | --- |
| Grant Round | Applications Available | Proposal Deadline | Grantee Notification | Award Level |
| Responsive Round | 10/01/2020 | 10/30/2020 at noon | 11/30 | Up to $75,000 |
| Targeted Round | Spring 2021 | Spring 2021 | Spring 2021 | TBD |
| Systems Round | Summer 2021 | Fall 2021 | Fall 2021 | TBD |
Reporting
All CIREF grantees, regardless of the application round in which they participate, will be required to submit a formal grant report for the Steering Committee's review upon completion of the grant. Grant reports may be submitted upon the exhaustion of funds and no later than one year from the grant paid date.
---
Grant Criteria
WHO CAN APPLY?
registered 501(c)(3) organizations; or
organizations and/or individuals who have partnered with a registered non-profit fiscal agent
GENERAL CRITERIA
innovative and bold solutions are presented that acknowledge the value, talent, and agency of the individuals served
alignment with stated CIREF priorities
clear and effective ways to determine success (evaluation and data collection)
project is feasible from both an operations and financial perspective
community engagement has been demonstrated in project design and/or implementation
WHAT WILL NOT BE SUPPORTED
requests for projects outside of the CIREF's impact area
direct awards to individuals (Projects led by individuals are required to have a not-for-profit fiscal agent in place for management of grant funds and reporting requirements.)
requests that do not directly serve or impact justice-involved youth or adults or provide opportunities that reduce and/or prevent their participation in the criminal justice system
requests that do not primarily support African American youth and/or adults
Should you have any additional questions, please contact CIREF@cicf.org.
---
September Responsive Round
With an overarching emphasis on bold and innovative approaches that address systematic inequalities within the criminal justice system for both African-American juveniles and adults, the CIREF will prioritize the following areas for investment in the Responsive Round, opening on Oct. 1:
reducing interactions between the African American community and Central Indiana law enforcement departments and agencies.
reducing African American representation in the juvenile and criminal justice system by providing positive alternatives for education and employment
increasing employment and wealth opportunity for African American communities, in particular, as it relates to matters of criminal justice, re-entry, and police interactions
Across priority areas, the CIREF seeks to invest in opportunities that support African-American led organizations (see FAQ below) that serve African-American youth and/or adults and address and/or include, but are not limited to, the following approaches (in no specific order):
trauma-informed care
adverse childhood experiences (ACES)
restorative practices and alternative approaches to school disciplinary policies
accessibility to mental health services
eliminating implicit bias
This grant round will be a competitive process with all grants being reviewed by CIREF Steering Committee members. Project, operating, and capacity building requests will be accepted, with anticipated award levels to be between $25,000 to $75,000. A total of $500,000 will be awarded in the first round of CIREF grantmaking. The application deadline for this Responsive Round was 12:00 pm on Oct. 30.