—by Diane Schussel, CICF community investment officer
---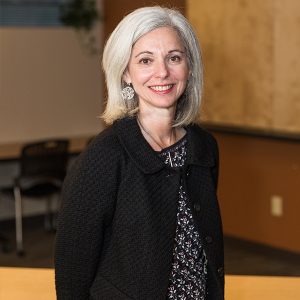 Not long ago, "Ray" was living in his car with his dog outside his former workplace. Ray was in his 60s when he became homeless. He married young and spent his entire life working, leaving management of household finances to his now former wife. After his wife divorced him, Ray suffered a heart attack. He returned to work only to experience continuing heart issues which resulted in him losing his job and health benefits. He tried driving for Uber, but after another heart attack, his doctor told him he could no longer work. Without income to pay his bills he lost his home to foreclosure and started living in his car outside of his former workplace hoping to become healthy enough to return to work. He finally gave up when he could not pass a job screening test because of his heart issues. He became anxious and ashamed. Ray's story is an example of what can happen when people lack resources—financial, social, and health-related—to obtain and maintain stable housing.
As human beings, we all have the right to be treated with dignity. Living with dignity includes access to decent housing. On any given night nearly 1,800 of our most vulnerable neighbors in Indianapolis are forced to sleep on friends' sofas and floors, in cars, in shelters, and even on the streets. Over 12,000 Indianapolis residents experience homelessness annually. There are many causes, but most include economic crises like Ray experienced. Fueling the cycle of homelessness are lack of affordable housing and access to crisis intervention supports.
…if the community chose to invest in permanent supportive housing for the chronically homeless, there would be over $4.2 million annually in cost savings.
A recent study by the National Low-Income Housing Coalition revealed that an individual working at minimum wage in the Indianapolis metropolitan area ($7.25/hour) would have to work 74 hours per week to afford a modest 1-bedroom rental home at Fair Market Value. Combined with a lack of tenancy supports including health services, addiction prevention, and someone to help navigate a crisis situation, it's not surprising that our most vulnerable neighbors may experience homelessness.
Homelessness is expensive, not just in loss of personal dignity, but also in community dollars. According to data from the Indiana University Public Policy Institute, in 2016 annual costs related to chronic homelessness in Indianapolis (including costs of health care, emergency shelter, hospital and ambulance care, and the criminal justice system) totaled approximately $18.1 million. According to the study, if the community chose to invest in permanent supportive housing for the chronically homeless, there would be over $4.2 million annually in cost savings.
We can do better.
Poverty puts constant pressure on people from high housing costs, low wages and inadequate supports. A sudden life event like losing a job, a health crisis or an expensive car repair can quickly push people into homelessness. Local organizations are working to assist people experiencing homelessness with navigating and connecting with housing and benefits. Many people feel isolated and struggle socially after the isolating trauma of homelessness and need help reconnecting with society.
Ray had never before been homeless and struggled to know how to fix his situation. A local organization arranged for Ray's dog to be fostered and helped Ray apply for disability benefits and health care coverage. They also helped him find a home. The organization helped him connect to disability benefits—enough to pay his rent—and to Medicare for access to medical care and medications. He now has a home with his dog in a senior living community which provides access to social activities. Ray now lives independently and with dignity.
Working together we can make stories like Ray's a thing of the past. Indianapolis is now poised to end homelessness. Led by Mayor Hogsett's challenge in his April 2017 State of the City address to provide 400 units of permanent supportive housing to our homeless neighbors, a coalition of homeless assistance providers, government agencies, local housing developers, and philanthropy leaders have joined together to reimagine how our community provides outreach, shelter and supportive services. Working together and tapping our Hoosier hospitality we can tackle the root causes of homelessness. It is my privilege and honor as a community investment officer with CICF to work with the Mayor's Office and many local organizations to tackle the structural causes of homelessness and to provide support to the many agencies working everyday with our neighbors experiencing homelessness.