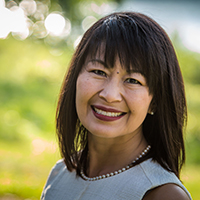 Nora Woodman joined CICF in February 2019 as CICF's director of effective philanthropy.
---
Greetings,
I am thrilled to have joined the CICF team in February as director of effective philanthropy, leading the team to provide exceptional fund holder service to you throughout the year. I certainly have come on board at an exciting time of change given CICF's new mission to mobilize people, ideas and investments to make this a community where all individuals have equitable opportunity to reach their full potential – no matter place, race or identity.
As a fund holder and valued philanthropic partner with CICF, you were invited to the public announcement of our new strategic plan for Marion County, which took place April 11. If you were not able to join us at the event, we want to be sure you have the opportunity to learn more and to have your questions answered. Below is a brief Q&A to speak to what CICF's new strategic direction means and how it will affect the services we provide to fund holders. Above all, we want you to know we remain dedicated to making philanthropy meaningful and helping you achieve your philanthropic goals.
I keep hearing about CICF's new strategic plan. What is it?
We changed our mission in 2018 to address national and local evidence showing the gap between the affluent and poor is growing, and that race has a profound impact on opportunity. We want to help create neighborhoods and environments that empower people, change systems that unfairly hold people back, and dismantle systemic racism.
We are focusing on five community leadership areas in Marion County: family stabilization, economic mobility, criminal justice reform, neighborhood empowerment and placemaking, and dismantling systemic racism; and three in Hamilton County: mental health, family and youth empowerment, and inclusive economic growth.
This sounds like CICF does something new. What about my fund?
CICF still does three things: We help people invest in the causes that matter most to them; we award grants to effective not-for-profits; and we provide leadership in Central Indiana. We have refocused our community leadership and influence to support a more equitable community for everyone.
Does this mean grants from my donor-advised fund have to support this new work?
No. Our goal will always be to help you reach your philanthropic goals. You may grant to not-for-profit organizations that best fit your interests and values.
Can I partner with CICF or its affiliates on this work?
Yes. In fact, we cannot do this work without partners. Let's talk about your interest areas and how you can help us do this important, generational work.
Our team would welcome the opportunity to answer any additional questions about the plan and to partner with you in ways that make sense for you and your fund. We plan to host Marion County and Hamilton County information sessions about our strategic plans in the future and will announce those dates in the future.
The effective philanthropy team looks forward to continuing to serve you! I also invite you to contact us directly:
Warm regards,
Nora J. Woodman
Director of Effective Philanthropy
Central Indiana Community Foundation