Danielle Stiles-Polk
committee chair, Celebration of Philanthropy
board director, Hamilton County Community Foundation
executive director for development, Ivy Tech Community College
---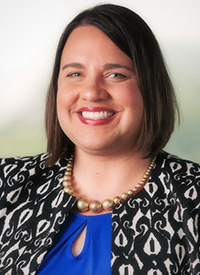 I hope all of you are keeping a countdown for Celebration of Philanthropy, but if not, this is your official notice:
45 DAYS TO GO!
This is my first year as committee chair, but I'm no stranger to this event. I was eager to lead this committee because I believe this is a can't-miss event for our community. In fact, this year, we can safely say it's an award-winning, can't-miss event.
Last year, Ritz Charles submitted Celebration of Philanthropy for the "Best Event with a Legacy" award from International Live Events Association —and it won! If you were with us in 2018, you know it really was a memorable and award-worthy evening. Not only did we announce a name change—from Legacy Fund to Hamilton County Community Foundation—we also announced three new leadership initiatives that will guide our investments in the community for the next five years: mental health, family and youth empowerment and inclusive economic growth. And to top it all off, we honored community pillars, individuals working diligently to make Hamilton County better for everyone.
To me, that's what makes Celebration of Philanthropy so special. It's one time a year where we truly step back and celebrate the philanthropic momentum in our community. We visit with over 50 local not-for-profits serving Hamilton County, network with 500 of our closest civically-minded friends, and enjoy top-notch food from our long-time partners, Ritz Charles.
Hamilton County Community Foundation has elevated its community leadership efforts in the areas of mental health, family and youth empowerment and inclusive economic growth this year. There is incredible cross-sector, countywide support for change in these areas and we can't wait to celebrate a few major wins that have taken place since last year.
That being said, there is one thing that can't wait until November to be acknowledged and that's the work of our 2019 Community Pillar Award recipients: Scott Fadness, mayor of the City of Fishers, Dan Clark, vice chancellor for Ivy Tech's Hamilton County campus, and Lauren Guynn, executive director for Shepherd's Center of Hamilton County. On Nov. 7, they'll give the organization of their choice a surprise $5,000 grant.
I can't pick a single favorite moment, but I can assure you we're working hard to make Celebration of Philanthropy another award-winning evening. Mark your calendars and start your countdown, Celebration of Philanthropy starts at 6 p.m. on Nov. 7. I hope to see you there.
More information, tickets and sponsorship information are available at HamiltonCountyCommunityFoundation.org.