***This piece is part of our content presented at Inclusive City 2020. On Oct. 28, 2020, from the stage of the Madam Walker Legacy Center, we revealed plans to dismantle systemic racism in Central Indiana at Inclusive City 2020. Learn more about that event here.***
---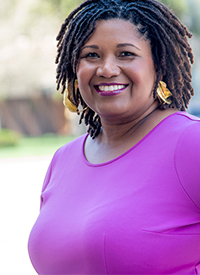 from Tamara Winfrey-Harris
Vice-President of Community Leadership & Effective Philanthropy
Anti-racist learning can be supported through reading books, podcasts and participating in equity trainings but the work is so much deeper than that. The vulnerability and honesty required to make true change can be just as messy as it is impactful. So be ready. 
The changes we're talking about making are real. They need to start happening now. And they need to be happening inside of our organizations and institutions.  
As a community foundation, we're charged with ensuring our grants make as much impact as possible in the communities we serve. Whether we're talking about housing or food security or placemaking or any of the other areas we're investing in, we've always taken pains to make that impact go as far as possible. 
What we're doing differently now is we're being laser-focused about how we do the work and the organizations we're partnering with. We have learned to give greater value to the time and intentionality it takes to develop very real and authentic relationships. It's no longer about simply doing good work in the community but also assessing whether or not the work is truly aligned with our mission and how the voices of the residents most impacted are being heard—whether the issue we're talking about is hunger or eviction or beautification or neighborhood safety. We have to work just has hard for the relationship as we do for the outcome.  
Outcomes for our investments and grantmaking are still incredibly important. In addition to building new relationships—and strengthening existing ones—we will continue to support our ongoing initiatives to increase the quality-of-life in Central Indiana for all while we work on our goal to become an anti-racist community. And we are inviting our fundholders to join us in this journey. And we will also continue providing support to our fundholders as they fulfill their own philanthropic vision. 
Applying an equity lens to ALL of our work is essential to increase the quality of life for ALL of Central Indiana. A perfect example of that is the work we've been doing over the past six months, as CICF has responded to the ongoing COVID-19 pandemic.  
What we've seen is that COVID essentially preys on those affected by systemic racism. The CDC has looked at COVID deaths for people under 65. The rate of death is twice as high among people of color as it is among White people. And for young people in this country who have died from COVID—we're talking here about those under the age of 21—seventy-eight percent were children of color. That's a staggering figure.  
Both the virus and the economic impacts that followed hit our most vulnerable communities–including many of our Black and Latinx neighbors—very hard, very quickly. 
But because we were already focused on how systemic racism often amplifies impacts around health and income security, we saw this coming and acted on it.  
In mid-March, when the city shut everything down, we decided to create the Neighbor Relief Fund in Marion County—all about COVID relief, and all about addressing the needs of the most vulnerable people. And Hamilton County Community Foundation, Women's Fund of Central Indiana and many of our other funds joined in that commitment. We also joined a larger institutional relief fund with Lilly Endowment, Eli Lilly and Company, the Nina Mason Pulliam Charitable Trust, Fairbanks Foundation and the United Way in the creation of the Central Indiana COVID-19 Community Economic Relief Fund. 
We made these decisions inside the span of a week. The Indianapolis Foundation decided to move $250,000 into one fund, and $250,000 into another in partnership with the Glick Fund. Hamilton County Community Foundation and the Women's Fund of Central Indiana also moved quickly and dedicated significant dollars to relief funds. 

---
from Brian Payne
President & CEO
World-renowned, Indian writer, Arundhati Roy, wrote an article that talks about pandemics throughout history, and how each of them has historically been a portal from the past world to the next world. She wrote "We can choose to walk through it, dragging the carcasses of our prejudice and hatred, our avarice, our data banks and dead ideas, our dead rivers and smoky skies behind us. Or we can walk through lightly, with little luggage, ready to imagine another world." 
Don't insist on bringing your old-world ways and habits. A lot of the stuff from the old world isn't worth taking. The systems that keep White people disproportionately in power and keep Black and Brown people down—let's leave those behind. Ms. Roy says let's be flexible and adaptable in the new world and fight like hell for what is right. 
---
UP NEXT: video from CICF's community ambassadors