***This piece is part of our content presented at Inclusive City 2020. On Oct. 28, 2020, from the stage of the Madam Walker Legacy Center, we revealed plans to dismantle systemic racism in Central Indiana at Inclusive City 2020. Learn more about that event here.***
---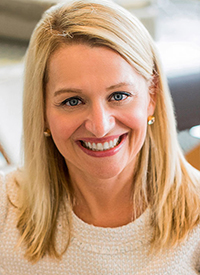 from Jennifer Pope Baker, president of The Women's Fund of Central Indiana
As President of Women's Fund of Central Indiana, it is my privilege to lead the work we are doing to help make our community more equitable for every woman and girl—no matter her place, race or identity.
In 2021, we will continue to amplify and support culturally competent mental health programming for Black and Brown women and girls, especially those living, working and going to school in under-appreciated neighborhoods. In particular, this will happen through programming we support with Asante Children's Theatre and with Give an Hour, both of which have a focus on girls attending Indianapolis Public Schools.
Women's Fund is working to assemble funding for an ambitious new investment in the lives of Black women which starts with the premise that racism is a public health crisis in our community and it disproportionately impacts women. It is our intent to launch an initiative that brings together women who are natural leaders to become champions for those who are experiencing inadequate access to healthcare, the stress of children attending school virtually from home, economic instability, insufficient access to food and housing, the pandemic, addictions, violence at home or on the streets, and the specific needs of mothers who have lost their children to gun violence. Stay tuned for more information from Women's Fund as we knit this together.
Women's Fund has also dedicated significant energy to ensuring we have diversity in decision making on our Board and on our committees. In 2021, we will also introduce a new Advisory Board committee that will focus on opportunity, equity and inclusion so we are able to have global conversations about our commitment, rather than relying on micro-conversations throughout the organization. We believe this will lead to even better outcomes in our work.
Women's Fund has always had a bright line of only funding organizations with Board members that are made up of at least 50% women.
In 2021, we will begin working with our grantees in several ways regarding racial equity, including:
the racial make-up of their boards
where they are relative to learning about racism
helping them think strategically about assessing racist systems that may be at work within their organizations
creating – delivering – and evaluating programming that is culturally appropriate
We know these things are not quick fixes and we do not expect immediate changes, rather we want to help jumpstart a commitment to addressing changes that need to be made in order to provide equitable programming for the women and girls they serve. The work of Women's Fund is bold, and our Board is fiercely committed to taking action to bring this work to life.
Women's Fund will mobilize people, ideas and investments to dedicate ONE MILLION DOLLARS in the next eighteen months to shine a light in the spaces where Black women have been silenced, under-appreciated and ignored. This funding will be directed to help improve the overall health of Black women with a focus on emotional well-being and to help create room at the table so the voices of Black women are heard and become an equitable part of the decision making in our community.
We know this work won't be easy, and we welcome the challenge. Women's Fund invites and welcomes you to partner with us in meeting this challenge.
---
UP NEXT: Brian Payne and Tamara Winfrey-Harris announce The Movement of 10k—a grassroots initiative committed to a million acts of equity