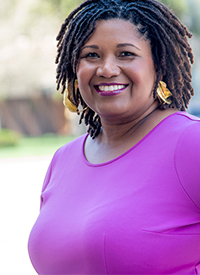 from Tamara Winfrey-Harris
Vice President of Community Leadership & Effective Philanthropy
---
In 2019, Central Indiana Community Foundation, The Indianapolis Foundation, Hamilton County Community Foundation and Women's Fund of Central Indiana vowed to make ours a community where all individuals have equitable opportunity to reach their full potential – no matter their race, place, or identity.
The journey to equity is never-ending and requires self-reflection. Over the last year, our grantmaking team, led by Andrew Black and Alicia Collins, directors of community leadership, have interrogated our responsive processes for grants made through The Indianapolis Foundation; worked closely with our neighbors and CICF Community Ambassadors; benchmarked against other foundations moving toward equity and anti-racism; and learned a lot through efforts to get COVID-19 relief to our most vulnerable neighbors who need it most. This diligence will allow us to evolve our responsive grantmaking process in the new year, making it more equitable and effective for Indianapolis not-for-profits.
In 2021, using The Indianapolis Foundation Equity Framework, we will make unrestricted responsive grants of up to $50,000 to mission-aligned not-for-profits in Marion County that:
Focus on root causes and not symptoms of racial inequity
Support efforts that address and seek to eliminate disparities
Focus on addressing systems-level reforms rather than one-off programs
Serve high percentages of under-appreciated, marginalized populations with quality, comprehensive programming with a sharpened focus on outcomes
Are designed with and endorsed by community stakeholders, including residents and/or those being served by the organization or project
Include a feedback mechanism for residents and/or populations served to inform programming design and delivery
Possess organizational and board leadership that is representative of the populations served
This is not an exhaustive list but rather a framework our community leadership officers will use when assessing competitive grant requests. This equity lens will also focus on how race impacts experiences and access to opportunities, outcomes, and power, to eliminate inequities and narrow opportunity gaps.
We know that unrestricted grants give not-for-profits the flexibility to allocate funds where they are needed most, making them stronger and more sustainable, and freeing them from bending programs to funder desires. There has been a sector shift toward unrestricted grantmaking as more funders tackle the hard work of equity and anti-racism, and work to respond to the lasting effects of the COVID pandemic. While national funders (Ford Foundation) and large community foundations (San Francisco) have adopted mission-aligned unrestricted/general operating support, there are still few opportunities in Indianapolis for organizations to seek and receive this type of funding.
The Indianapolis Foundation will continue to make proactive grants in support of our strategic goals centered on economic mobility, family stability, criminal justice reform, neighborhood empowerment and placemaking, and dismantling systemic racism.
The Indianapolis Foundation's November call for applications is open now through 1 p.m., Monday, Nov. 30. The Equity Framework will be fully operational, beginning with all November 2020 requests to The Indianapolis Foundation.
Thank you for your continued work on behalf of residents in Central Indiana.
---
---
Frequently asked questions
Should you have any additional questions, please reach out to your community leadership officer or email us at CommunityLeadership@cicf.org.