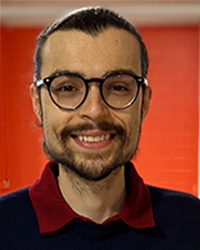 by Noah Sandel
—Hamilton County Community Foundation Strategic Communications Associate
---
Last month, Hamilton County Community Foundation hosted the Festival of Philanthropy.
The event—sponsored by Hylant Group, Inc—served both as a grand opening of the innovative co-working and meeting space, the Collaboration Hub, and a not-for-profit showcase. Despite the weather conditions, the organizations and guests persevered for the evening. While guests dined on cuisine and beverages from Ritz Charles' Simply Served Catering, the attendees had the opportunity to learn and engage with the participating organizations making transformative changes in our communities.  
Tom Kilian Jr., president of Hamilton County Community Foundation, joined by staff, board members, and Mayor Scott Fadness of Fishers took center stage to cut the blue ribbon—signifying both the opening of the space and a visible effort of communities coming together.  "Over 65 regional not-for-profits came together to highlight the great work being done throughout our Hamilton County communities," said Tom. "Although mother nature had different plans, we were all able to support each other and learn about the important work being done on a daily basis. Because of the Collaboration Hub, we are able to learn, share, and develop shared opportunities for our future."
The Collaboration Hub, nestled inside the walls of Hamilton County Community Foundation, is a gathering space designed to promote community action while developing and incubating new ideas for inclusive economic growth. This socially innovative ecosystem provides monthly educational programs for its members invested in continuous improvement in Central Indiana. If interested in becoming a member, email CollaborationHub@cicf.org.
While the evening showed a spotlight on the physical space, another highlight was the opportunity for participating not-for-profit organizations to receive grants. Generously made possible by Festival Pillar Sponsors—First Merchants Bank, Community Health Network Foundation and Ivy Tech Hamilton County/Ivy Tech Foundation—the top three organizations with the most votes received a $5,000 grant. Throughout the evening, attendees cast their votes for their favorite participating organization. By the end of the night, the three organizations awarded were Noblesville Youth Assistance Program, Hamilton County Youth Assistance Program, and Noblesville Schools Education Foundation. These grants received will enhance, expand, and connect to the central vision of a community built with and for equity for all.