A conversation with Tamara winfrey-harris, Dr. Una Osili, & Rebecca hutton
On Nov. 10, 2021, The Indianapolis Foundation and Leadership Indianapolis hosted the first Mosaic Fellowship community convening, "The Truth About Board Diversity" with Dr. Una Osili of the Lilly Family School of Philanthropy.
---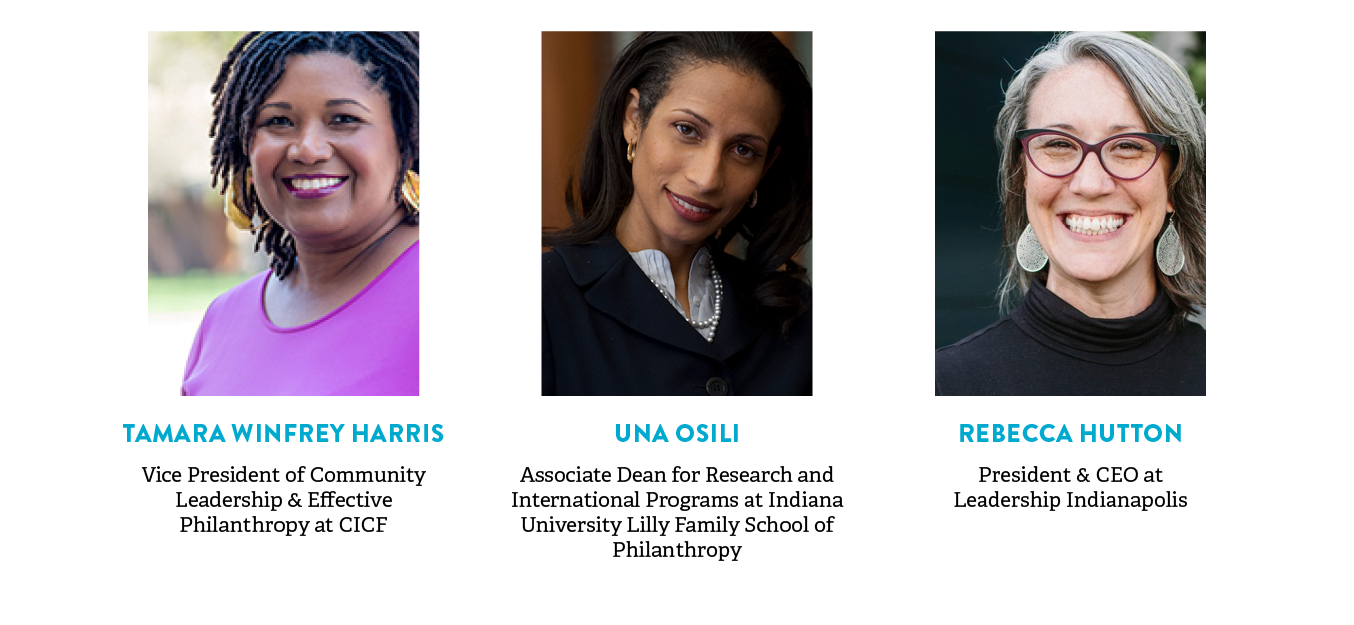 ---
Tamara Winfrey-Harris: Hello and welcome everyone. My name is Tamara-Winfrey Harris. I am the vice president of community leadership and effective philanthropy at Central Indiana Community Foundation (CICF). I want to welcome you to this hour-long discussion hosted by the Mosaic Fellowship. So we know that there is a lack of diverse board leadership in Indianapolis organizations causing boards to remain overwhelmingly white and male. And even organizations that have mastered diversity often fail at true inclusion and power-sharing with people of color, with women, young people, and the LGBTQ+ communities. And as a result, the community continues to witness public organizational failures.
So the Mosaic Fellowship Pilot was established in partnership with the Indianapolis Foundation, which is an affiliate of CICF, and Leadership Indianapolis to increase diversity on boards, not just so that boards look differently, but so they work differently. We aim to do this by providing support to both individuals and organizations. We want to shift power, elevate new voices, and grow the perspectives included on not-for-profit boards throughout our community.
Very soon, we're going to announce the individuals and organizations who will be part of the first cohort of the Mosaic Fellowship, five individuals who will join boards of not-for-profits who have committed to doing meaningful work and making changes to advance equity in their board operation recruitment and retention. But first, our very first Mosaic Fellowship community convening, we're really happy that you decided to join us. We have an unprecedented number of people on the line, almost 200 people signed up to have this discussion. So we know this is really important regionally. Every quarter in 2022, we're going to host programming around organizational equity that will be open to all Central Indiana organizations. But this afternoon, we are honored to host Dr. Una Osili, associate dean for research and international programs, Efroymson chair in philanthropy, Dean's Fellow, Mays Family Institute on Diverse Philanthropy at the Lilly School of Philanthropy and also a treasured CICF board member. Dr. Osili is a global expert on philanthropy and social innovation with more than two decades of experience in leadership, economic policy, and research across the public and private sectors.
This year, Dr. Osili and her team conducted updated research about board diversity and how building a diverse not-for-profit board can influence engagement and fundraising philanthropy, and more. She is here to share that with you today. Dr. Osili is going to speak for about 20 minutes, followed by a discussion moderated by Rebecca Hutton, president, and CEO of Leadership Indianapolis. So please join me in welcoming Dr. Una Osili. Welcome, Una.
Dr. Una Osili: Well, thank you so much. I am so honored to be part of this inaugural series, and I'm also delighted to be with so many wonderful colleagues from around Central Indiana. It is also a time of a lot of change across all the sectors that we work in. And we have had the benefit of data to allow us to better understand all of the changes that are taking place, a global health crisis, a social and racial justice movement, and a shifting economic landscape.
And our team is updating the research as Tamara mentioned, but we have also been tracking board diversity in partnership with BoardSource. It's a national organization that collects data on boards of all types. And several years ago, we worked with BoardSource to ask this very question—why does board diversity matter for nonprofits and specifically, how does it affect philanthropic outcomes and philanthropic engagement, and also advocacy outcomes?
So I'd like to share my screen, but also remind us that this is very much going to be a discussion. And I really look forward to all of your questions and you can send them right away via the Chat function. One of the ways that I will share today is really to take behind the scenes. When we first launched this project quite a few years ago, we were surprised to hear that within the field of nonprofits and philanthropy, there's a lot of discussion about diversity and boards, but very little data. In contrast, when we look at the business world or even the government sector, there's a lot more research on the impact of board diversity.
So the goal today is to understand how board diversity affects philanthropic, leadership and board engagement. And these are questions that surprisingly have not been asked before, but you are going to see today that there are a lot of myths that we can dispel by just taking a look at the data. Very simple.
So the key question is, first of all, why does board diversity matter? And here there is a data case to be made. One area where there has been continuous tracking of data is in the foundation sector. In the 1980s, some of the earliest studies that have been done on this topic looked at the foundation world and found that it was not very diverse. In fact, women, especially in CEO roles were not well represented, only 21%. And male CEOs made up more than 70% of the foundation and leadership. And if you looked at the board composition, it would be very similar.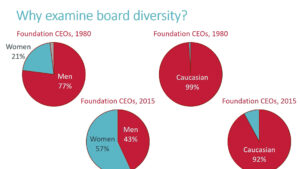 In the most recent data from the foundations of Council and Foundations has done this tracking over time, they found that foundations had actually attained more or less gender parity. In fact, women were now occupying the CEO roles in greater numbers. In contrast, when they looked at racial and ethnic diversity, they found that the needle had not moved very much since the 1980s. So lots of progress on gender diversity, but when it comes to race and ethnicity, the boards looked very similar to the way they looked in the 1980s. This was a bit of a wake-up call for the nonprofit sector in particular nonprofits are at the front lines of social change. There are more than 1.5 million nonprofits around the US, and many of them are working on our most pressing issues around climate, racial and social justice, gender equity. And to see that the needle had not moved very much in the time span, 20, 30 years was quite surprising to many.
And that's around the time we started thinking about why are these boards not changing as much as you would expect? In the same time period, we've seen Congress become more diverse. We've seen local governments showcase more female leadership and racially and diverse group members. The business world has also moved to become more diverse, especially with respect to gender and racial and ethnic diversity. But the nonprofit leadership world, boards and CEO positions do not seem to be on pace.
So we had to ask ourselves, what's holding us back? And also what are the reasons, what are the benefits of diverse boards? Now, a lot of this research reflects what's been done for government and business, but we've also seen in the nonprofit world that representation matters. Boards that are more diverse, are able to represent the populations they serve better. They're perceived as more effective, are able to make higher quality decisions, have stronger engagement with policymakers and advocacy, and have better performers overall. So this is across the for-profit, nonprofit and government sectors. These are all the benefits that are associated with diversity.
Note on this list, there's no discussion about philanthropy. So that has not been studied before. And one of the myths we encountered as we talked to leaders is around the sector is that one drawback to having a more diverse board. Yes, they may be more representative. Yes, they may be more effective, but they may not be as good at fundraising. And that more diverse boards may actually be a detriment to philanthropy. So we sought out to answer that very question.
We wanted to know which boards are diverse and which ones are not. And how does diversity relate to organizational outcomes? To measure organizational outcomes, we looked at three measures. The first is engagement. Are diverse boards engaged in the work of governing the organization? Are they involved in community building and outreach? What about fundraising engagement? And finally, advocacy. How are board members engaging to educate policymakers and monitor the impact of government policy on their work? And we relied on the BoardSource survey that has been conducted over a number of years. It's a national survey. They have both a CEO report and a board chair report on all these different measures. And independently, we have measures of philanthropic outcomes for those organizations, as well as the self-reports from the CEOs and board chairs.
So we're going to look at what is the impact of board diversity? We're also going to look at the specific outcomes around philanthropy and advocacy. So let's just quickly show you the sample that we looked at. It's very similar to the national sample of nonprofits. Arts organizations are represented. We have organizations that are in the environment, healthcare, human services across the board. And this picture of our sample's very similar to the national data. So I'll just take you to what we found, which is what everybody's here for.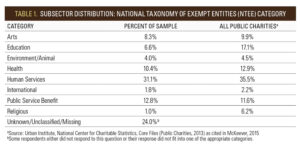 There are many, many results in this study and we had to really discipline ourselves to come up with the top six. But today I'd just like to talk about the top three findings. The first finding and the one that all of us need to just pause and think about. In fact, all of you on the call today on the Zoom webinar are members of boards. You may work at a nonprofit. Who is on your board? Think about whether that board is diverse in terms of race and ethnicity, in terms of gender, LGBTQ status and even youth status. Do you have any young people or younger board members?
What we found overwhelmingly is that nonprofit boards fall short, this is across the board of reflecting the overall diversity of the communities that they serve. In fact, perhaps very important to note, older organizations, organizations that are more established and have higher revenues actually are less diverse. So the organizations that are doing perhaps a poor job when it comes to representing the communities they serve tend to be the wealthier, more established organizations. That's where we see less diversity.
Why is that? So let's take a look, first of all, at the data set. How diverse are nonprofit boards? Overall, gender seems to be moving forward. We're attaining equity as far as gender on nonprofit boards. But when it comes to race and ethnicity, we tend to find that our nonprofit boards overall do not look at all like the communities they serve. And in fact, there's a lot of work to do to get these boards to even represent the US population. On age, we also find that is also an area where many nonprofits simply do not have anybody under the age of 39 on their boards. And 39 is not necessarily young, but that just gives you a sense of board members tend to be much older than the average population.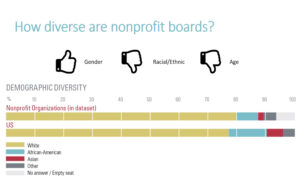 So let's look at where these challenges are most pronounced. Interestingly, once again, on the gender side, look at the arts, education, the environment, most of those boards are 50/50, meaning women make up half just like they do in the population. But when it comes to age, race, and ethnicity, most of the sub-sectors are underperforming. They're punching below their weight. And there are some areas where there's a lot of ground to make up.
So I'll give you an example. Arts organizations in particular have much lower percentages of African-Americans, Asian-Americans, Latinos/Hispanic households than what the population would predict that they should have. When it comes to education, education tends to be doing the best when it comes to African-American representation. But across the board, when you look at say international organizations, you don't find very many diverse board members. And another area where I think there's a lot of work to be done is in the religious landscape where women make up only 27%, 28% of board members. And similarly African-Americans, Asian-Americans tend to be under-represented. So you can go through each of these categories and then think about the organizations that you either work at or serve.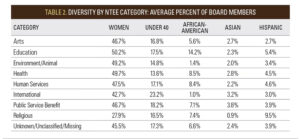 Think about the organizations that you either work at or serve on boards and think about how that aligns. Who's missing from the table? Who should be brought to the table? And I can say that I have presented this research at the board source national conference, and there was a line out the door with so many people having questions about how their organizations were performing relative to this data. So the data is quite powerful in showing that most organizations are doing pretty well when it comes to gender, but across all the other dimensions of race and ethnicity, and LGBTQ, several other dimensions that we can unpack, much less representation taking place.
The second finding and this is probably the most compelling is when we looked and we measured this so many different ways. The percentage of people of color on the board is not actually related to fundraising performance. In other words, diversity does not hinder fundraising and boards that had a higher percentage of people of color, and especially women were actually rated higher by CEOs for their fundraising performance. One of the strongest results from the study is boards that had a higher percentage of women on the board tended to have not just higher fundraising outcomes, but also board member engagement scores that were very high, as well as higher advocacy engagement.
And then, you can see there are a lot more findings around the fundraising piece, but especially in arts and culture organizations and older organizations, we found that board members were more engaged in the fundraising.
The third finding, and one that I want to emphasize, is the role of gender. For a long time, many boards also had barriers to women joining. And when you talk to boards about why they had so few women, they talked about how it would maybe affect the culture of the board, the engagement of the board, the fundraising of the board, and the advocacy. And we found one of the most persistent findings is that gender was actually positively related to all the different organizational outcomes that we studied.
So finally, I want to talk about another finding, which was the advocacy. Increasingly we know that the problems facing our communities cannot be solved by nonprofits alone. We need to work with the government. We need to work with the private sector. And in general, we did find that younger board members and also the percentage of women on the board had an impact on engagement with policymakers. So that's another dimension of how diversity can drive organizational outcomes.
So the big takeaway is across all the findings, all the outcomes we look at, board diversity actually has either a positive impact on philanthropic outcomes, or it doesn't have a negative impact. So the myth that diversity may have for fundraising is just not born out by the data. In fact, quite the opposite. The findings actually indicate that diversity confers benefits as far as it relates to philanthropic outcomes for nonprofit organizations. And this is across all the dimensions of philanthropic engagement that we look at. Board engagement, fundraising, and also advocacy.
"There has never been a better time to examine both the benefits of board diversity and the actions that we all need to take to make sure that the organizations we work for, we serve and that we support are diverse. And all of us have a role to play here."
In addition to the data collection we did in conjunction with Board Source, we also worked with case studies around the country. We interviewed organizations and looked at organizations of different sizes, different sub-sectors, and also ones that were on various trajectories around board diversity. Some had already diversified their board. Others were still thinking about how to do this. And so we were able to see how organizations were grappling with this very question of board diversity. We were able to put together some of the findings from the case studies. And I'd like to spend some time just talking through some of these. The very first point that was made throughout the case studies is that diversifying your board sometimes means embracing change. And it's not always going to be easy to move the needle when it comes to diversity. But organizations that had embarked on this were actually much more came out of this process, much more positive about the organization culture that emerged.
Secondly, it's not just enough to focus on board diversity. You also have to onboard board members. You have to make sure you provide a proper orientation. Provide board buddies or other components to board development and set clear guidelines and expectations. Seek to identify potential board members and also meet and discuss with community members who could be potential board members.
In addition, there was also this idea that board diversity has to be baked into all of the work that you do, but you also have to let board members own the process. So in other words, the board members have to be part of the conversation and do it their way. Finally, it's not just about diversity, we hear this all the time. We also have to discuss the role of inclusion. Once board members are brought into the organization, do they feel welcome? Do they feel included? And this has to be a continuous process. It's not just onboard them and then that's the end of it. This is something that has to continue throughout the life of the organization. I can't emphasize this last point enough, onboarding is so key. Many of the organizations we talk to emphasize that they spend just as much time on the orientation process as on the recruitment side. It's really important to make diversity and inclusion not just a one-off type of process, but throughout the life of the onboarding and engagement process.
So with that, I think we can move quickly to what is the call to action? We are in a global pandemic, a racial and social justice movement and also an economic period of economic volatility. There has never been a better time to examine both the benefits of board diversity and the actions that we all need to take to make sure that the organizations we work for, we serve and that we support are diverse. And all of us have a role to play here.
Rebecca Hutton: Una, thank you so much. There's so much great information here. And so, before we even jump into any questions, I just want to say thank you for the work that you and your team have done. You mentioned that these kinds of questions about the philanthropic impact on nonprofit boards are related to diversity and inclusion. These questions haven't been asked before, which I think probably is one of the reasons why we find ourselves in the situation that we're in now and trying to rectify that situation a bit.
I want to say, reiterate a statement before I ask the first question, which is when you said that diversity has a positive impact and at minimum, not a negative impact on the philanthropic outcomes for organizations. And I just think that it is worth repeating—because that is one of the myths that we hear often from organizations that say it'll be a struggle to diversify their board. They're worried that that's going to hurt the organization financially and philanthropically. However, the data shows that that simply is not true and that in fact, it's actually going to benefit your organization in most cases if you're able to diversify your board. So thank you for making that very clear and giving us data and not just anecdotes for that.
You mentioned the onboarding is really important in terms of successfully diversifying boards and really creating a sense of inclusion and not just diversity. Do you have any insights into what some of those successful strategies are for onboarding new board members, particularly those who are bringing a more diverse representation to the organization?
Dr. Osili: Excellent. So while the data that I shared did not have the details about the onboarding process, we had a number of case studies of organizations. One in particular that I want to just mention quickly is an organization that works with seniors in New York City. What they noticed is that New York City is very diverse. The seniors they serve are of all different racial and ethnic backgrounds, LGBTQ+, etc. There are different dimensions of diversity, but their board was mostly white. So they really talked about the need to diversify their board wasn't just a nice to do or something funders want them to do. Instead, they thought it would be instrumental to serving the seniors of New York City.
So what they actually did was make that part of their conversation as they tried to recruit board members. During the recruitment process, they make it clear that you are joining an organization that is deeply committed to these goals. And then making sure that that onboarding process reflects that. So it's not just a question of we're inviting you to join the board, but we are making this really an opportunity for us to learn more about the communities that we're trying to serve. So seeing it as definitely a partnership, rather than you are just inviting a diverse board member makes a big difference.
Many organizations also talked about having events for new board members. Designing systems such as board buddy so there can be that one-on-one component, and then letting the board members get to know the staff so that they are well integrated into the work and have direct access. So it wasn't a, and another thing I'd say, is just the time dimension, it wasn't just come to an orientation session and you're done, but it was a continuous learning process and a two-way street where board members were able to learn about the organization, but the organization was able to learn about the board members. I think that's the part that we have to keep going back to. It's not a one-way conversation.
Rebecca: Yeah. I mean, for me, that goes back to your point in the presentation that diversifying boards means embracing change. And that's been one of the underpinnings for the development of the mosaic fellowship is this idea that often when there is greater diverse representation brought on to boards, there is kind of an unspoken expectation of assimilation into the existing culture more so than, as you said, individuals are evolving, the organization is evolving, and that things are probably going to change but that's a good thing. That means your board members are in fact contributing to the organization.
We've gotten a few questions in from people who are on boards or with nonprofit organizations who have said their organizations understand the importance of diversity, believe in the idea of inclusion. However, even though they are trying to recruit more diverse board members because they have been historically white, they are struggling in building those relationships. Is there anything from your research or any advice that you have in terms of how does an organization that has traditionally been white, or older, or some of these demographic factors that you've mentioned, start that progression? It's a little bit of the chicken and the egg, right? You become more diverse when you have more diverse representation, but for those who are kind of, organizations are struggling to get there or to get that ball rolling. Is there anything from your research that suggests some successful strategies for making progress?
Dr. Osili: I love that question. And I will start with just sharing my screen here. In the Board Source report, and for everyone, you can actually have the full report. I'll make sure that we send the links. There was a toolkit that was developed. We worked in partnership with Board Source to take all those case studies and say, what is the sort of one, two, three plus steps one needs to take in order to diversify your board, especially if you haven't done this before.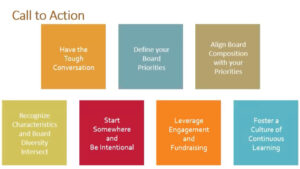 So the very first point, and I'll just go through them quickly, is having the tough conversation. So what's preventing us from having more diverse board members? Then identify your board priorities. Why is this important to you and for your organization? The other point that is also really a key one is to start somewhere. You have to get started on this, if that's your goal, be intentional about making progress. Sometimes organizations are almost overwhelmed. We don't have a diverse board. We don't know where to start. Starting somewhere makes the world of a difference, and makes this a continuous learning process. So for many organizations, and I had this presentation with our IUPUI team, the entire university came for this presentation and all the schools talked about the very same thing: "Where do we find the diverse board members?" So in their case, it wasn't so much, "We want to do this. We committed to this. We know that our boards aren't diverse, but we don't know where to start and we don't know where to find the board members." I was surprised to hear that this was the bottleneck, "We don't know where to find them," because we know that our communities are very diverse. For universities, you have your alumni. You already have a group that you can go to, to recruit, but for some organizations, maybe there isn't a natural place to start in terms of finding diverse board members.
So here, I would say partner with networks that are in existence. So for example, it could be the Hispanic Chamber. If you are an arts organization or a human service organization, reach out to the Chambers of Commerce, the Black Chamber or the Urban League. The Urban League even has The Exchange—a cohort of young leaders—who are already very excited about being on boards, but no one has asked them or invited them. So start somewhere and be intentional. That's the box on the red. You can also reach out to CICF for help on this because they can connect you with neighborhood organizations and so many other groups. The pipeline is really key and I'd say, build a pipeline and be intentional about it. In this environment, there are so many new strategies that I'm hearing about, but one that came out of this board source report, actually, because we kept hearing, "We don't know where to find diverse board members." This technology can be your friend here.
In Chattanooga, Tennessee, a young entrepreneur developed an app for nonprofits to find diverse board members. But I would say, we don't have an app for Indianapolis yet, but LinkedIn and lots of others, IBJ, many other publications, technology here can really be your friend. So it's a very long answer, but I'd say that the key is really to have that internal conversation that starts within, but then you can start to look outward and leverage the resources you have, but be intentional and get started.
Tamara: I popped up because I wanted to add I love what Una said. And so, diversity is important every day, not just when you start looking for board members. The one way to be really successful is to start building authentic relationships with a diversity of people before it becomes time to look for board members. So build a relationship with the Black Chamber and build a relationship with all of these organizations. People, broaden your networks. Very often, that's how board members are chosen because they're part of our networks. So if you don't know where to find diverse people, that means your network is not very diverse.
"So we also want to emphasize to everybody joining us today, as you have those authentic conversations and discuss the priorities that you have in this organization and what that diverse community member can bring, also be clear that it is all the assets that, that person is bringing. It's not just that they're a Black woman or an Asian-American woman or whatever demographic, Hispanic male, Latinx male, but also the fact that this is part of all the assets, all the skill sets that they bring. It's about shaping the organization so that it better serves the community and is built for the future."
Rebecca: Yeah, absolutely. I've often likened it to the process of cultivating donors, right? You would not just walk up to somebody and say, "Hey, I hear you have some money. Can you just go ahead and donate to us because we need money?" So the conversation can't be as shallow as, "we'd like to diversify our board. You are a demographic that is not currently represented. You want to join our board?" You want to be able to think about cultivating authentic and genuine relationships that can grow into board membership rather than only looking for board members, as Tamara said when you need board members.
One of the other questions that have come in, which is related to where we're at right now I think in the conversation, is also the importance of avoiding tokenism and thinking, "oh, we have added one Latinx person to our board," or, "we now have one Black woman on our board, so we are diverse now." I think that also ties back into that onboarding process of making sure that, as you said, that it really is a much deeper relationship and ongoing process.
And so, for some organizations who are, again, thinking about starting that process of diversifying their board, how can they make sure that they avoid falling into that trap of what we call tokenism or even that perception? That as they start diversifying their board, most boards do not roll over as such that they're going to suddenly be able to switch to 50% people of color in the next year. So do you have any recommendations from your data around that?
Dr. Osili: I think what the data really show is that the organizations that have the most challenges are, surprisingly, the ones that are most established. So they have already been successful in so many ways. They have the revenue, they have the assets, they are older, established before 1900 in some cases. I think for these organizations, change is actually quite difficult and there are many reasons why this is the case. These are the organizations that are, in some ways, most resistant to adding a different type of board member because what they've done has worked. So I get a lot of questions from organizations, CEOs, board chairs, who say, "how do we bring change when the model that 'we had' has worked?"
What I emphasize to people is, "It may have worked in the past. Is it going to work in the future?" You are building a more diverse board to ensure that your organization and its mission can continue to be relevant in the future. It's not about looking just to the past. You have to look to the future and especially at the moment that we're in. So to avoid tokenism, it has to be, we go back to this, "how is diversity &inclusion linked with your priorities as an organization, as a board?" Because if it's really very aligned with your bigger organizational goals, then having that conversation becomes quite seamless.
One board chair asked me, "how would you respond to this?" They gave me the exact scenario. They said, "We realized we needed more diversity. We recruited an Asian-American woman. And she asked us, frankly, 'Are you recruiting me just because I'm Asian-American?'" And he said, "I was so taken aback by the question I kind of froze. I didn't know what to say. How would you have responded to it?" So they put it back on me.
What I emphasized is you have to tell them the broader story of your organization, why this is important and that her particular contribution is not just about her being Asian-American, but all of the skills and assets that she brings to the organization. So we also want to emphasize to everybody joining us today, as you have those authentic conversations and discuss the priorities that you have in this organization and what that diverse community member can bring, also be clear that it is all the assets that, that person is bringing. It's not just that they're a Black woman or an Asian-American woman or whatever demographic, Hispanic male, Latinx male, but also the fact that this is part of all the assets, all the skill sets that they bring. It's about shaping the organization so that it better serves the community and is built for the future. That's, where we found in the data, but also through the case studies, a lot of success because if everybody understands why this is taking place and how this is aligned with our priorities as an organization, I think you're less likely to freeze when someone asks you that question. Because he said he was so taken aback, that he didn't have an answer.
And so, I can share with you that all of the questions I got were very similar. People had stumbled into an issue and they didn't know how to solve it. I also think it's okay to acknowledge that this is not always going to be easy and that there's a lot of learning for the organization that they have to undertake as they learn about new board members, understand priorities of different communities that they necessarily haven't interacted with and be prepared to be on this continuous learning path. I think that's okay. We're in a time of incredible change and everything is changing around us. So be prepared to learn.
Rebecca: Yes, I think that your point is really significant. We've talked a little bit about onboarding and the importance of understanding that when there's so much emphasis on recruiting new board members, particularly those that will bring diverse representation, there has to be a focus to anticipate the opportunities for that board member to contribute their skills to the organization. And so, as you said, it's not only looking at demographics.  There's an Association of Black Accountants. There are associations of Black lawyers, right? Thinking about any board member, anybody who's serving on a board wants to make a meaningful contribution to that organization. And so, being mindful that, that's going to be an important part of the conversation and that you should anticipate somebody asking that kind of question of why do you want me on the board? If the answer is uncomfortable to say aloud, we should probably rethink how we're handling it.
Building on this, we've had a question come in, in which somebody said they feel like their organization is moving in the right direction, but there are board terms to contend with. Because board terms and the timing of board terms turning over aren't usually annual, right? It's not one year and you change a bunch of people out on your board. So, it's a little bit of a slower evolution, they're saying, for their organization, simply because of the pacing of those board terms and people rolling off and the opportunity to bring new people on. The question that they have, which kind of turns us a little bit from the board perspective to the funders, is do funders and philanthropists understand that timing? What do you think from the philanthropist perspective, whether that's an organization or an individual's, what do you think is the expectation as to how quickly that transition happens with the reality that board terms generally last multiple years?
Dr. Osili: It's a great question. In this past 12 to 18 months, we've seen donors who've said, "I'm not going to support this organization because their board is not diverse," or, "I'm not renewing my support." This is true for both foundations and individual donors. I think we're at a point where funders are asking those questions. So I would say for organizations if you do have say five-year terms or terms that take some time to expire, be prepared to have a plan. In particular, put together a list of what you're planning to do to make sure that you do have a more inclusive board, maybe not now, but next year.
Several organizations that I'm a part of, they initially had, you could say, not as aggressive a target, and I've been quite surprised to see that, I'll just say one organization particular was very, very aggressive on gender. They said they wanted half the board to be female. That meant every time there was an open position, they were recruiting women for that position. Then we start to have a conversation. It's not enough just to have gender diversity. 50% is a great goal and I'm excited that we're having that conversation, but what about other dimensions?
And so, what the organization did was update its plan around board diversity and board recruitment to ensure that race, ethnicity, regional diversity (this was an international organization actually), and other dimensions were brought to the table. I will also say in this transition, it was interesting to see everyone get really excited about bringing these more diverse board members. So I think if your plan is, "In 10 years, we're going to diversify our board," clearly, I think funders will not be patient in that timeframe, some funders. However, if the organization is quite intentional about doing it, it may mean revisiting your existing laws, bylaws, and also your plan. So you may have said, "By 2050, we're going to be more diverse." Maybe you need to look at that timeframe again. So while funders tend to be flexible, understanding these constraints, I think there's also an expectation that if you are not there, you're moving towards that and doing so in a way that's very intentional, not just leaving it to chance.
Rebecca: Yes. I think it also goes back to Tamara's point earlier where it also gives you some time over the next year or however long it is as you start having those board seats become available to build those relationships and be intentional about building those relationships so that you can fill those seats more intentionally and thoughtfully.
Another question that we've had come in, which kind of comes at this from the staff perspective. So for the staff of a nonprofit, how do they help motivate the board to embrace diversifying the board itself? I think there are a few pieces of this, which is one, I loved it when you said that it's really important that the board owns part of this process and their identity and how they're shaping it, that it can't just be the staff saying, "This is important to us." It has to be important to the board as well, through their action, not just their kind of philosophical support.
Also the idea that a lot of times I've heard from organizations that I know, there's some research out there now that's coming, a lot of times at the board level particularly, but within nonprofits, there is a sense that when they start thinking about diversity and inclusion, that it is often external facing, right? Like we need to think about our audiences, we need to think about the people that we are serving. And that's true, but there's a lot more hesitancy to think internally about the board itself and the staff itself. So can you talk a little bit about if you've got an executive director, you've got a staff of a nonprofit who this is really a top priority for, how do they help bring a board that may be a little bit more hesitant to look inward and how do they help bring them along on this process?
Dr. Osili: So there are just two things I'll say there. Have the conversation. As the CEO, as the chief development officer, have the tough conversation, because as you said, sometimes the board is asking you why aren't our audiences more diverse? So it may be an orchestra, a symphony. Why aren't we reaching different types of communities? You can then use that as a chance to say, "Well, we could do that if we had a more diverse board." So that's a chance to engage the board in solving that problem. So having the tough conversation is really key.
The second is the data. The data can be a great starting point. So many organizations that I've talked to have said, "These slides from this report have been very helpful" because when they show specifically this is what our board looks like, this is what our community looks like, why don't we have a more diverse board and not just it would be nice to have or our funders are asking us for it, but this allows us to reach our organizational goals. We want to serve seniors from a diverse community. We want to help children achieve their educational outcomes. We need community members at the table. We need that community voice. You saw those initial benefits to diversity, and guess what? This may even help our ability to reach our philanthropic outcomes, fundraising, engagement, advocacy. Having this more diverse board can move the needle in areas that we aren't even thinking about right now. So there becomes an excitement and an urgency around this rather than just being, "Let's check off the box that we have met our diversity goals." This is now baked into our DNA. The organization that I spoke about that serves diverse seniors, one of the things they talked about was just how having those diverse voices that brought in perspectives from New Yorkers, this was in New York, of all different backgrounds made their organization better in terms of actually their mission, which is to serve vulnerable seniors.
So I go back to this idea that diversity on its own may be a good idea, certainly some funders are requiring it, but if that's the only reason you are doing it, I think it's going to be somewhat limited in the impact you can have. But if you see it as part of your organizational culture, as part of your mission, and being in higher education, we serve diverse students. If our boards are not diverse, we're missing an opportunity. So that's how you have to think about it. And from a fundraising standpoint, the former CEO of the IU foundation said it means there are all these communities that we're not reaching through our efforts because we don't have people from those communities. So it means that fundraising advocacy, engagement, involvement, volunteering. A great example is some organizations it's not the money they need, it's the volunteers. And they're, "How can we find more diverse volunteers?" The board can really help with that. And if you have a diverse board, it becomes very straightforward.
Rebecca: Great. And a couple of people have asked about board size. Have you seen, as you're doing your research, is there a certain size of board that is more successful at fostering an environment of inclusion? We talked a little bit before about older institutions tend to struggle more than newer organizations do, but is there any information that informs the size of a board?
Dr. Osili: So with the board size, we see that the larger, higher revenue, higher assets tend to have larger boards. So in general, what we know about larger boards is that it definitely helps with fundraising. So if you have more board members, you have more networks, more engagement, but when it comes to diverse board members, that's where we do see some impact. If you just have one person of color on the entire board, that is quite different from if 50% of your board, and here that may be an aggressive target, are people from diverse communities. The same thing with gender. If you have one woman on your board, that's very different from 50%.
The challenge I will throw out there is that most organizations seem comfortable with saying, "We need at least 50% of our board to be female," but quite reluctant to set targets around race and ethnicity. So I think what we should do, I'm not saying you need to set a specific target because clearly one size doesn't fit all, but if we are comfortable with some benchmarks in certain areas, we should also be comfortable at least setting some goals for what we want our boards to look like. And again, very much connected with our mission because we've now seen certainly it does not hurt your fundraising. In fact, organizations that are more diverse are more engaged and there are all these other benefits that we're able to see the data.
Rebecca: Great. We've had a few people talk about age. You said we've made progress in terms of gender. We are struggling to make progress in terms of race and ethnicity, which I think you've done a phenomenal job of helping us think through today. When we think about age and finding younger board members, I also think it's important to state aloud that these groups are not mutually exclusive.  Thinking of younger board members does not mean that it's not younger board members of color, right? Don't think of segregating all of these demographic groups. There are actually really talented young professionals of color who want to be engaged. So I think it's important that we don't segregate in our minds those groups too far from one another. Older organizations that you've said have fairly significant board gifts that are required can be a barrier to somebody who is earlier in their career. Is there any insight that you have into how to engage younger board members?
Dr. Osili: This is a great point, but it's also one that many organizations seem to be struggling with. So if you look at the average board age, in our sample, it tends to be 50s and 60s, which means people in their 40s, people in their 30s, and certainly, people in their 20s are not in the room where it happens. They're not sitting at the table. And when we think about a lot of the issues and communities that we are working to advance, young people live in those communities. I feel very strongly that organizations should have the community voice when making decisions. And the research also shows that having that community voice makes a big difference in terms of philanthropic outcomes and engagement.
Young people, in particular, bring different assets. So as we saw in the research, having a younger board member profile led to more advocacy. So I also think organizations should be open to the different ways of defining philanthropy. In some ways we've made it quite narrow. The size of the check that the board member can write. And financial support is crucial. Many organizations depend on their board for those philanthropic gifts. At the same time, younger board members may have networks. They may be connected to organizations that can write those larger checks. They might have access to volunteers and they're very involved in policy. They can also bring new skill sets, social media expertise.
So I think, first of all, keep in mind that by allowing yourself to think differently about who is a board member, as we said, there is almost a profile that most people, "This is the type of person that should be on our board," allowing more flexible ability, what that person looks like—young, a person of color, female, LGBTQ+ status—all kinds of other areas that we need to draw on. I also think that organizations that bring young people on board do see a big impact immediately.
The other point that I just want to say very quickly is most organizations are really struggling with how to engage a younger audience. So whether it's arts organizations, human service organizations, educational nonprofits, they all want to bring a younger voice. And that one place to that is by thinking about adding a younger board member. It could be having a seat for a younger board member, for some, it's establishing a youth leadership board, and that can also be an effective way. But essentially I feel like it's a blind spot for many organizations, and there's just a lot of resistance for some of the reasons you've cited without thinking about the assets and the benefits that those young board members bring to the table.
Rebecca: We had another question come in that's very closely related to this, which is we've talked about organizations' desire for younger board members, but also younger generations think about how they serve communities in very different ways and they think about philanthropy in very different ways. So do you have any sense in terms of the shifting interests of younger people to serve in this kind of way?
Dr. Osili: Another very good question. So many of you may know that IU Foundation does have positions for younger alumni, for current students even to serve. And it's a great opportunity to learn. We go back to this idea that boards are not just resources for organizations, but knowledge repositories. And for organizations learning how to engage with young audiences, message appropriately, all of those things, having a younger board member can be a key insight to cracking that nut, as you said. What is it that young people want? And here, this is really about listening, learning, and engaging. And I think Tamara mentioned authentic relationships. I do think that for the IU Foundation, in particular, having that recent alumni voice has also been very crucial because it's true the younger generation may want things done differently.
Rebecca: Fantastic. Una, thank you so much for a really lovely and informative conversation. I am going to throw it back to my colleague, Tamara, to wrap us up this afternoon.
Tamara: Wow. This has been amazing. Thank you so much, Una. This conversation has been so robust and I realize there are still a bunch of questions that we didn't get a chance to answer, but here's what we are going to do. We're going to make this recording available to you. I think I heard Unna say that she'll provide links to the reports and things because we want you to do something with this. We want you to use this information to take action for the betterment of our community. Also, we are going to use the questions that you shared to help us frame 2022 programming. So we know what it is where you need help and where you need answers and we will try to help and provide those with the programming we schedule for Mosaic coming up. So please do, if you have any suggestions, do you reach out to Rebecca or I or Mosaic at cicf.org. So we hope this programming today has made you think more about diversity and your board.