In a conversation with Fishers Arts Council (FAC)

, we discuss the move to the Collaboration Hub and why art found a place in the community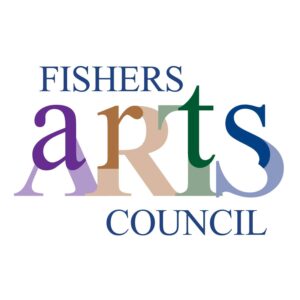 Beginning in June 2022, the Fishers Arts Council's monthly galleries and receptions have been held at the Collaboration Hub (the Hub) located at Hamilton County Community Foundation. After it was announced in 2021 that the City of Fishers had to construct a new city hall building, those housed in the space found temporary homes around the city. With a momentous initiative by Jeena Siela, senior community leadership officer, the foundation applied for a Fishers Arts & Culture Commission (FACC) grant and was granted an award for the Hub to host FAC's exhibits and events after May 2021. This grant has allowed us to install a railing [Walker hanging display] system to safely hang the art in the not-for-profit coworking space, the Hub. After two months of galleries and 2nd Friday receptions, Les Reinhardt, executive director of FAC, and her team offered thoughts, hopes and vision for the Council and the relationship with the foundation to grow alongside the community.
Tell us about the background of the Council's place in the community that made a move possible.
Fishers Arts Council had been curating the Art Gallery at City Hall for well over a decade. The City staff appreciated the ever-changing artwork and the Arts Council loved having a place to call home and offer events for artists and the community. As an all-volunteer organization, having a space that was central and accessible was very important to us. In early 2021 we were made aware of a Grassroots Grant program through Hamilton County Community Foundation, which aligned with programming we had in conjunction with students at HSE junior high and high schools. This grant program introduced us to Anita and Jeena, and our relationship has continued to grow from there.
Why did FAC move out of Fishers City Hall and into the Hub?
Due to years of foundational issues with the City Hall building, it was decided to demolish the current building and create a new City Hall and Arts Center. It was imperative to Fishers Arts Council to maintain our mission and uphold promises made to visual and performing artists who had been booked for exhibits and events, so we went on the search for a new home in late 2021.
How has the transition into the Collaboration Hub been?
Working with the foundation has been an incredible experience. Our patrons and board really love the coziness and community connecting feel the Collaboration Hub offers. The feeling of relaxing, taking in the artwork and music in what feels like an intimate setting is definitely a switch for us, but a welcome one. As we're already halfway through our second exhibit in the space, we've worked out a good rhythm and communication plan and things have been going smoothly.
How has Hamilton County Community Foundation supported the exhibits and monthly receptions?
The staff has gone above and beyond any non-FAC support that we've ever had in a gallery. Jeena has been amazing from start to finish; this relationship would not have been possible without her. Making sure our receptions are booked on the calendar, helping with set up, bringing ice and offering house items for us to borrow, and enjoying the reception with her family – all of that truly exemplifies how amazing she is. Noah has been equally incredible in their support of our receptions – online and in person. The level of care and talent in supporting our artists and receptions has blown us away – something that was never expected and unbelievably appreciated. Tammy has been a coordinating wiz with our installs and changeovers, including special requests. All-in-all, the foundation team has been incredibly responsive, engaged, and supportive of artists and the goals of the arts council.
What will upcoming galleries showcase?
Our next exhibit focuses on the history of Fishers and Hamilton County. The Fishers Historical Society will be part of the exhibit and will be present at our Second Friday in August. We're excited to learn from them. Also, our September exhibit is a Juried Exhibit of Hamilton County Artists, sponsored by Jiffy Lube of Indiana. Artists from all over Hamilton County participate. At our September Second Friday event, we announce the winners selected by our juror and the People's Choice winner, as selected by the community.
What does Fishers Arts Council look like in 2023 and beyond?
Current discussions with the City of Fishers and Indianapolis Art Center (the organization slated to manage the Art Center portion of the building) are in the direction of involving Fishers Arts Council in some way with the new building. While we hope to return to the site of our original gallery, we really enjoy being at home in the Collaboration Hub and are looking forward to many beautiful exhibits in the future.
"The feeling of relaxing, taking in the artwork and music in what feels like an intimate setting is definitely a switch for us, but a welcome one.

"
How can people stay in touch or get involved with Fishers Arts Council? 
Follow us on Facebook @FishersArt and on Instagram @FishersArtsCouncil – as an all-volunteer organization with one part-time staff member, Fishers Arts Council is always looking for more volunteers who want to help support arts and culture in Fishers. Reach out to us on social media or through our website at FishersArtsCouncil.org for ways to get involved.
---
 To learn more about how Fishers Arts Council found a home at the Collaboration Hub, click here.