By Noah J. Sandel
---
In preparation for the eighth annual Dancing with Our Stars event, Tom Kilian, president of Hamilton County Community Foundation and IMPACT Central Indiana, & Olga Cansino are ready to take the floor 
Look – not everybody is a dancer.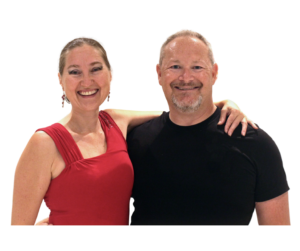 When Tom came into a team meeting and twirled about his decision in participating in this year's Dancing with Our Stars event, the hesitancy to respond immediately was as fresh as July peaches. This includes Tom. What was he searching for? Did he want somebody to talk him out of it? Into it? Was this just to gauge some semi-public feedback? Well – over the course of this discussion, the background of how Tom found himself between dance lessons and Corby Thompson (board member and dancer in last year's event) opened up.
Look – not everybody is decisive.
As the date for potential participants to respond approached, Tom admittedly wavered between uncertainty and complete determination. After sharing some dance style options, song ideas, and routine ideation, the go-ahead commitment was set in stone. This reasonably created a mental image of Tom square dancing or flipping into a cheer routine like his college days would suggest. But he wasn't a flyer. He was the base—the foundation. Coincidence? It is now. Because of this, heel-toe and pointe stances have never trekked for bodily memory, know-how, and habit.
Look – not everybody is nostalgic.
Tom went into this with a pinpoint focus on one routine he really wanted to do while entertaining others – of course. But when an opportunity presents itself to fulfill a longtime, dream-like scenario, why wouldn't one take the bull by the horns? This event is designed to be fun, engaging, and an experience that will ensure the audience and organization the time of their lives. From finding yourself in a field of dreams and making reality seem inconceivable to making a Saturday detention the last crusade and kicking off blue suede shoes to stop and look around once in a while – this is why this event has become a tight thread in Hamilton County's fabric. Everybody can carry a watermelon while standing at the flames of a DeLorean hitting 88 mph as we phone home. It is why it matters – why it is worth the practice, pain, and pride – to belong for more with more.
Look – not everybody can work and play.
Going behind the scenes at practice with Tom and his professional dance instructor, Olga Cansino, was an enlightening scene. The bar wasn't set low, but the routine – only a few weeks in – was in better shape than expected. Was it Olga's miraculous teaching? Whatever the case, the demeanor of the room was as passionately fiery as the floor they refused to pour water on. Sways, glides, lifts, and the croon of a moody theme all combined into a heap of anticipation for this night. Call us mistaken because we were. Expect no more and no less than a spirited and emotional prom night.
Look – not everybody will be ready.
Being on time and in rhythm are the basic rules for dance etiquette. When zealous goodwill shakes its tailfeathers with timing, that's when the beauty of art shines. Dancing with Our Stars will shine its light at 6 p.m. on Thursday, Sept. 8 at the Embassy Suites in Noblesville. Circle the date, write it on your hand, set a reminder, and be there in the way you are most able. If you can't make it in person and find yourself willing and able to donate, make sure you vote for our foundation family, Tom, with that donation. When you vote for your favorite couple, the math is simple: $1 = 1 vote.  The community "Star" with the most votes gets the People's Choice Award at the end of the night.  While it isn't the most important part of the night – to win the award – it is what it has done for the mission of Meals on Wheels. It means this event, your donation, and the dedication by all involved are changing the lives of our neighbors, our friends, and our community with a united bridge of support.
"When zealous goodwill shakes its tailfeathers with timing, that's when the beauty of art shines."
Look – not everybody is a dancer.
But we can all be fans. Be helpers. Be learners. And that's why this event has meaning; it is why Tom knew he couldn't pass on this opportunity to impact beyond the self. We can all apply our greatest value as humans – to be better each day for one another. To be you for them – it's all for which we can hope. So, show up. Donate to vote. Like posts on social media. Spread the word. Or simply make the promise to yourself and your community to always find ways to impact for good.
---
Dancing With Our Stars
from Meals on Wheels Hamilton County
Thursday, Sept. 8
6  to 9:30 p.m.
Embassy Suites in Noblesville
Register and vote here.
Facebook event here.
View all four behind-the-scene promos here.
Meals on Wheels Hamilton County was established in 1975 and supports individuals who are elderly, disabled, chronically ill and home-bound, and nutritionally at risk. They serve all cities within Hamilton County: Arcadia, Carmel, Cicero, Fishers, Noblesville, Sheridan and Westfield.