Generation Z. Defined as those born from 1997 to 2013. This generation has grown up in a time where we as a country—and an entire human race—experienced seismic change. In addition to experiencing a global pandemic, Gen Z faces an ever-increasing number of school shootings and a racial reckoning redefining nearly every coming-of-age milestone. This series of traumatic events causes Gen Z to feel frustrated, angry and afraid.
It is easy to connect these negative emotions to the root cause of how this generation can find themselves involved with the criminal legal system. But what if we as a community started proactively prioritizing joy, abundance and safety to decrease lives lost and interactions with that system? Wouldn't we truly have thriving neighborhoods?
Tawyna McCrary is doing precisely that.
Since 1999, McCrary has been building up programs and services that are helping the Indianapolis community. In 2014, she founded Training for Success. This consulting firm specializes in various services, including strategic plan implementation, program development and implementation, database development, and program analysis and evaluation. She has always had a knack for infrastructure development in partnership with local and national not-for-profits. She's worked with diverse populations but has a specific talent and passion for working with Black, Indigenous, and People of Color (BIPOC) youth. While working for the Edna Martin Christian Center, McCrary helped grow the YES Indy Rec Center on the Eastside of Indianapolis. YES, Indy Recs are places where young people can hang out in a safe space and play basketball while also learning more about educational opportunities, workforce development training, and job placement services.
McCrary is expanding her services to the Westside of Indianapolis through a recent grant from the Elevation Grant Program. Through a partnership with EmployIndy, Flanner House, and Indy Parks, there is a new YES Indy Rec Center at Watkins Park.
"This space is creating joy for our youth. They want to feel needed. They want to feel heard. They want to feel loved. And that's the energy I'm infusing right into the space," said McCrary.
One of the crucial programs of YES Indy Rec is its "Power Huddle." Power Huddle is a two-week job readiness experience for young people between the ages of 16 and 24. The experience consists of group discussions, youth employment system connections, job preparedness tools and activities that will help participants reach their life goals.
McCrary infused this program with her experience and knowledge of trauma-informed care to create a space for young people that is welcoming and engaging. Through the Power Huddle program—in collaboration with her team—she's reached over 200 youth with a 85% retention and a 95% completion rate.
"We get 30 hours to pour love into them, but they get 30 hours to just focus on themselves, "said McCrary. "They get to take a 30-hour pause from life, something that they often don't get to do."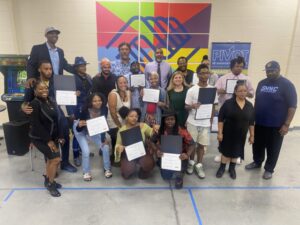 The idea that therapy can cultivate happiness is now much more widely accepted compared to years past. McCrary has a desire to cultivate a similar through guided group support. In Power Huddle sessions, McCrary uses music, meditation, art and journaling to spark engagement and healing. Participants get to present a vision board at the end of the two weeks.
"They get excited because they get to tap into their potential that they didn't even know they had or forgot about. And then they get to share it with everybody. Allowing them to find their voice and express it is powerful."
McCrary credits building authentic, mutually beneficial relationships to the program's success.
"We have this mutual respect for each other. That's the only way you'll get them to open up. Like, if they don't respect you and they don't feel good and comfortable with you, they're not going to tell you anything. They're not going to come. Young people have complete autonomy over their time. And so there are so many things that they can be doing. And so when they enter any space that I govern, I want to make sure I value their time because they're choosing to be here. They don't have to be here. They can choose to be anywhere else."
The re-engagement facilitators reflect this connection in their work. In this role, they connect with participants and try to see what their needs or wants are, and given the opportunity, they also provide mentorship. Their goal is beyond the sport happening on the basketball court. Their goal is to help participants learn life skills outside of the court.
"You need to learn how to be a team player. You need to learn how to resolve conflict. You need to learn how to be your brother's keeper. And that's what's happening on the court." said McCrary.
Gen Z is known for creativity being a significant factor in their lives. A study done by Adobe and Harris poll found that 66% of its Gen Z respondents considered themselves to be creative. People want to see themselves and their values reflected in the programming they support. Therefore, creativity was a must for McCrary's programming.
Investments directly into the joy and creativity of this generation is a proven alternative to the common practice of solely addressing their deficits.
"I have to creatively find ways to help young people," she said. "I don't care what the system says. We, the people, make up the system. So, we have to creatively find ways to help them to keep them from doing the survival tactics that they know."
---
Author: Tashi Copeland
Marketing and Communications Officer