From the desk of  Lorenzo L. Esters
President of The Indianapolis Foundation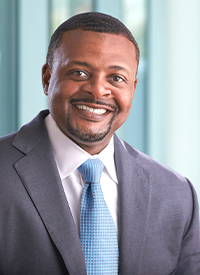 ---
For more than a century, The Indianapolis Foundation has been a catalyzing force transforming the Circle City toward a brighter future for all by addressing some of our community's most critical challenges— driven by the mission to mobilize people, ideas, and investments to create a community where all individuals have equitable opportunities to reach their fullest potential—no matter place, race, or identity.
Since 2018, The Indianapolis Foundation has been even more intentional by expanding its commitment to creating a more fair, just, and equitable future for all by focusing on dismantling systemic racism in our city. What an incredible opportunity to join such a thoughtful, committed, and passionate team of professionals and a network of strong and engaged leaders within our community to help solve some of the community's most pressing problems. This is the great fortune I have as the new President. What an honor and privilege to serve with you.
My career trajectory has certainly been aligned with a dedicated vision for equity, access, and opportunity for others. I first moved to Indianapolis about ten years ago to serve as Program Officer and Vice President for Philanthropy at Strada Education Network. Before that, I worked in higher education administration at both two-year and four-year institutions, as a federal government employee, and within higher education associations. Most recently, I served as Chancellor for the Indianapolis Campus of Ivy Tech Community College, serving over 28,000 students annually. In each of these roles, my passion for working collaboratively and in partnership, leading outwardly and promoting a culture of bold ideas and innovation has only grown deeper and stronger.
Though I have been in place for a few weeks, connecting with and introducing myself to each of you—our trusted partners—was of highest priority. As your leader and as your colleague, you can expect my unwavering commitment to my three Ps:
Purpose.
I commit to remain focused on our purpose – our shared mission.

People.
I commit to keeping people – those within our organization and those within the community – at the center of everything we do.

Progress.
I commit to igniting forward momentum toward progress and powerful impact at The Indianapolis Foundation.
Without a doubt, I come to The Indianapolis Foundation with an authentic intellectual curiosity and strategic lens to listen and learn about the organization's past and present so that together we can build upon its successes. Though there is no specific change agenda, it will be necessary to position our efforts alongside the organization's history, our community's needs, and the realities of our current environment.
Over the coming weeks and months, I will engage in a deliberate process of active listening and strategic learning. This process will include several one-on-one meetings, focus groups, community surveys, and convenings with partners, donors, current and former grantees, employees, board members, and others. Without a doubt, this necessary process will unearth bold ideas that can and will lead us into our brighter tomorrow, together.
---