Repurposed parking meters aim to make homelessness short-lived.
For the nearly 8,000 of the more than 928,000 residents that call Marion County home, home isn't four walls and a roof. For them – the homeless – no home exists, just a never-ending struggle to find shelter, food, help and care.
Created in 1996, the Coalition for Homelessness Intervention and Prevention (CHIP) was formed to reduce homelessness in Indianapolis through research, advocacy and awareness. In November of 2014, CHIP added an innovative, new approach for battling the problem.
In collaboration with Indianapolis Downtown Inc. (IDI), CHIP launched Know Outlets, a program that includes repurposed parking meters to serve as donation points throughout downtown Indianapolis. Funds from the meters will support the Professional Blended Street Outreach Teams that visit homeless communities at least five times a week, but the Know Outlets campaign's overarching objective is to help people "know" the outlets, including outreach teams, that makes homelessness short-lived, rare and recoverable.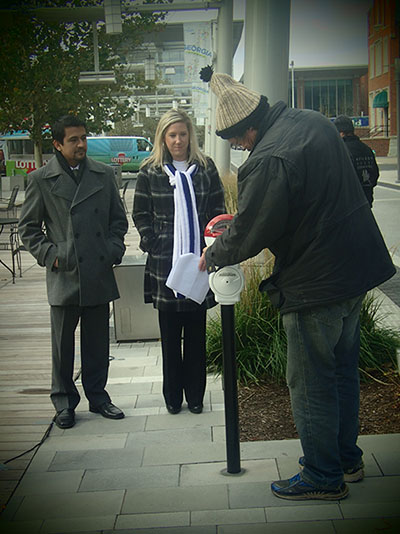 Other cities with similar parking meter programs include Portland, Oregon; San Diego, California; and Denver, Colorado, among others. Know Outlets evolved while studying Denver's program, which launched in 2007 and collects over $100,000 each year. Its meter donation campaign also contributed a dramatic reduction of panhandling, lowering it by 83 percent.
One of the first people to feed a Know Outlets meter was Michael Schwing, who has struggled with homelessness himself. Schwing regularly serves on a committee at CHIP that allows him to present his unique perspective and ideas to help shape policies and engage the public in conversations about homelessness. He made the first donation alongside Carlos May, senior executive policy advisor to Indianapolis Mayor Greg Ballard.
Know Outlets has sparked new dialogue centered on homelessness, and the repurposed meters provide everyone with an outlet to make a monetary donation that directly contributes to, and supports, CHIP's efforts to reduce homelessness.
"It's very hard to look at someone in need and say, 'No,'" says Christy Shephard, executive director of CHIP. "Know Outlets is the perfect way to redirect your giving patterns so you don't have those thoughts. You know that your funds are going to individuals with high needs and barriers and are living on the streets right now."
Donations from the meters support Professional Blended Street Outreach Teams made up of 43 individuals from 16 different agencies that bring an array of support to the homeless. In 2013, CHIP reported that the teams had 697 interactions with homeless individuals, including: building relationships, delivering supplies, providing medical and safety support, and discussing resources available to help secure permanent housing.
Securing permanent housing isn't always easy, says Shephard, who adds that making the decision to secure permanent housing carries more consequence than one might assume because people in homeless camps consider each other family. Substance abuse and mental health issues often hinder a person's ability to make healthy choices, too.
"It's not a matter of intelligence," Shephard says. "It's really about perspectives, barriers and influence of others."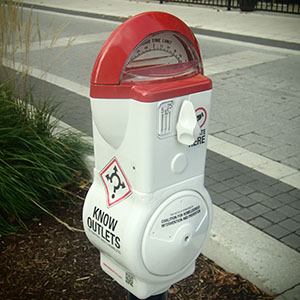 People choosing to remain unsheltered throughout the winter exemplify the magnitude of Marion County's homeless problem. When CHIP conducted the annual federally mandated homeless census on January 29, 2014, the low temperature was 3 degrees below zero Fahrenheit and Marion County had already experienced 27 inches of snow.
On that cold night, CHIP identified 1,897 people living in shelters or on the street. It was an increase of 19 percent from the previous year. Using this data, CHIP estimates that 8,000 individuals experience homelessness at any point throughout the year. This year's census – called a Point In Time Count – takes place the last week of January.
"The Department of Housing and Urban Development is really looking at those people that have nowhere to go but emergency shelters, transitional housing, or are out on the streets," says Shephard. "With winter, if they are out and part of this count, then they really, really, absolutely need housing."
To overcome homelessness in Indianapolis, CHIP and its agencies will use money raised from the meters to continue their outreach. Support includes money raised at the meters, but most derive from meter sponsorships ($2,500) and awareness packets, which start at $50 and include window clings, coasters and table tents for local business or organizations to display.
Last fall, The Indianapolis Foundation, a CICF affiliate, sponsored CHIP's 2014 Celebration – a panel discussion with local civic leaders, Indianapolis Downtown Inc. and the community to raise awareness about current homeless issues and needs. The Indianapolis Foundation also supports CHIP with intermediary support throughout the year.
Visit www.KnowOutlets.com to learn about sponsoring a meter and other sponsorship opportunities. To learn about creating a Personal Foundation that helps reduce homelessness, contact Rob MacPherson at 317-634-2423 x 509 or robm@cicf.org.