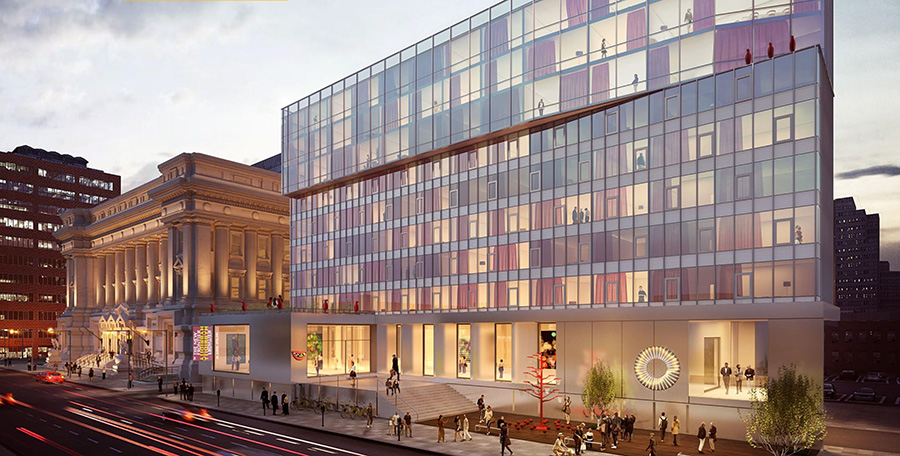 A sneak peek at Old City Hall Plans
In its day, Indianapolis City Hall was a model of City Beautiful Classicism meant to symbolize the City's stability and achievements. Located on Alabama Street and completed in 1910, the four-story building featured an Indiana limestone exterior, majestic columns and a grand rotunda topped with a stained glass dome. And for the next 52 years it was home to the City's offices.
Then the City moved its offices to the Indianapolis City-County Building. The Indiana State Museum moved into the "old" City Hall and left, followed by the Central Library, which moved in while its new home was under construction. The library moved out in 2008. Since then, the massive building has sat largely vacant.
Until now.
On February 26, 2015, May Greg Ballard announced a new cultural district for the city: Market Square. The new district will feature over 150,000 sq. ft. in new office space, over 100,000 sq. ft. in new retail space, and over 800 new residential units (Artistry and 360 Market Square) by 2016.
At the heart of the new district will be 21c Museum and Hotel, which will occupy and renovate Old City Hall and its adjacent property. Headquartered in Louisville, KY, 21c currently has four locations: Bentonville, AR; Cincinnati, Ohio; Durham, NC; and Louisville. Founded by contemporary art collectors and entrepreneurs Laura Lee Brown and Steve Wilson, 21c Museum Hotels combine contemporary elegance with modern art; each of the company's hotels features an onsite contemporary art museum. 21c is "actively looking" for opportunities to contribute to the cultural life and revitalization of urban neighborhoods—making it a perfect fit for Old City Hall, the Market Square cultural district, and possibly, as the new home of Central Indiana Community Foundation.
CICF has been a part of the redevelopment and renovation of Old City Hall since the project's inception. In addition to recruiting other cultural organizations who would occupy the third and fourth floors, CICF is exploring plans to relocate its staff and offices to the building's second floor, but no decision has been made. Currently the project is expected to be completed by 2018.
CICF's Angel Investors are a major factor in the ongoing transformation of our community, and CICF's ability to help drive that change. Without Angel Investor support, our Community Leadership Initiatives wouldn't be possible. Thank you, Angels!
Photo: City of Indianapolis Rendering