In-home nurses break the cycle of generational poverty
Children born into low-income families hear 615 words per hour by the time they turn three. If that seems like a lot of words, think again. Children born into more affluent homes hear more than three times that number, an estimated 2,153 words per hour. The disparity creates a staggering gap, one that puts children from low-income families hopelessly behind right from the start. It's that gap that David Olds, Ph.D. witnessed first-hand as a kindergarten teacher in the early 1970s. And it's what inspired him to start Nurse Family Partnership (NFP) in 1996.
A national program operated locally by Goodwill Industries of Central Indiana, NFP pairs voluntary first-time, low-income mothers with a nurse during the child's most formative years (prenatal through the child's second birthday). Dr. Olds has conducted nearly four decades of research comparing NFP participants to mothers and children outside of the program. He found that intervention during the early stages of a child's life leads to greater educational attainment. NFP mothers are more likely to live longer, healthier lives, too.
Lisa Crane, senior director of NFP in Indianapolis, says NFP's three priorities are derived from Dr. Olds' research: healthy birth outcomes, improved health and development of child, and improved self-sufficiency of the family. Adding NFP to Goodwill Industries' existing services, including education and job training, creates a holistic program for young families to combat the cycle of generational poverty as early as possible.
In late 2014, NFP received a grant from The Glick Fund, a fund of Central Indiana Community Foundation (CICF), with a recommendation to assign nurses to new mothers geographically rather than by availability. The Glick family asked to test this approach on the far eastside of Indianapolis, specifically the area covered by zip code 46235. Nearly 30 percent of residents in this area live in poverty and one-third of the population are under the age of 18.
A grant from The Glick Fund enabled NFP to hire Amanda Hasecuster to work specifically with new mothers on the Far Eastside. The early results of her impact are encouraging: babies born in the NFP program on the Far Eastside under Hasecuster's care were more often born at a healthy weight, and more likely to be carried full-term.
The early success of this new approach prompted The Netherleigh Fund, also a CICF fund, to award a significant grant to NFP. This empowers the organization to continue emphasis on a local approach and commission further research on the subject.
"Amanda [Hasecuster] has developed deep connections within apartment complexes, neighborhood clinics, her clients, their families and their extended families. That was our intention."
Hasecuster says it was NFP's intent because she spends a great deal of her time identifying resources to help her clients meet basic needs of their baby and family—earning a degree, finding employment, locating quality housing or daycare. It's these types of roadblocks that could interrupt a first-time, low-income mother's path to self-sufficiency.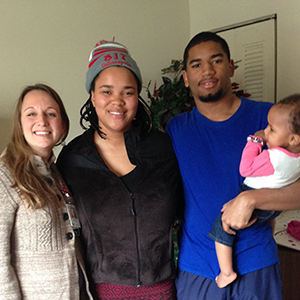 On the Far Eastside, finding reliable transportation to these resources is another challenge. What might be a 10-minute car ride to the Excel Center, where clients may earn a high school diploma, is a two-hour bus ride due to inconvenient bus routes—most of Hasecuster's clients do not own a car, and some work more than one job.
Hasecuster says she spends a significant amount of time helping her clients navigating the practical side of being a new mother, but the emotional support she provides is just as vital. Hasecuster's relationship with her clients empowers new mothers to choose the best options for her family's well-being.
"A lot of them don't have that basic belief in themselves," Hasecuster says. "A lot aren't comfortable receiving that type of praise or encouragement, but it's important."
One of Hasecuster's clients, Aigner (Awn-yay) Baker, just celebrated her daughter Aloni's first birthday. In that first year Baker texted Hasecuster often. "Why isn't she walking at four months?" "Where are her teeth?" But what surprised Baker the most about her first year as a mother wasn't what she learned about her baby. She was surprised to hear that Hasecuster is proud of her.
"She's always encouraging me and I don't hear that a lot," says Baker. "I thought she'd ask how I was once a month, but it was deeper than that. She asked about me as a person, as a mom, as a girlfriend."
Hasecuster is transforming not only the lives of her clients, but also the Far Eastside community as a whole. When Aloni turns three, she'll likely hear far more than 615 words every hour, in large part because of her mother's desire to cultivate her daughter's success. But the most important lesson Baker hopes to teach Aloni is to never give up. It's a lesson she'll likely learn from her mother.