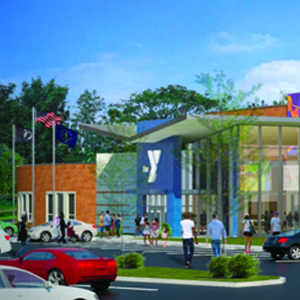 On July 26, The YMCA of Greater Indianapolis broke ground on the new OrthoIndy Foundation YMCA in Pike Township. Naming rights for the Y were awarded in recognition of a $3 million grant, announced last March from OrthoIndy Foundation, a donor-advised fund of Central Indiana Community Foundation (CICF). This partnership was made possible, in part, by the work CICF does to connect donors with philanthropic opportunities that match their charitable interests. An additional $9.5 million has been donated to the project, which is set to open in December 2018.
The Catalyst for a Corporate Fund
OrthoIndy Foundation was created in 2012 using proceeds from the OrthoIndy hospital, a physician-owned hospital for bone, joint, spine and muscle care. OrthoIndy's founders established a trust with the intent to give back to the community in some way, but they didn't know how to implement their vision. It wasn't until working with CICF staff that their intention started to take shape in tangible ways. In 2012, the OrthoIndy Foundation's vision includes helping veterans, elderly and communities with mobility needs in Central Indiana.
"We couldn't do this without CICF. We're a group of orthopedic surgeons and administrators. We spend our entire lives figuring out how to get people in and out of the operating room safely. That doesn't give us many skills in the philanthropy world," said Dr. John Dietz, spine surgeon at OrthoIndy and chair of the OrthoIndy Foundation. "That's the first thing CICF did for us—give us that expertise."
Dr. Dietz and the foundation's committee worked with Ruthie Purcell-Jones, director of philanthropic services at CICF, to put their charitable goals into action. In 2015, OrthoIndy Foundation awarded $725,000 in grants, an increased amount from previous years and a significant step towards becoming an influential philanthropic force in Central Indiana. Grants that year were allocated to Servants at Work, Back on My feet, Habitat for Humanity, among others.
But Purcell-Jones knew the foundation was thirsty for more, something innovative and life-changing for Central Indiana veterans.
Finding a Perfect Match
Purcell-Jones spent two years researching and making connections with community leaders and organizations related to OrthoIndy Foundation's focus areas of mobility and veterans. As a part of that work, she connected with Jim Todd, voluntary service chief for the Richard L. Roudebush VA Medical Center. Todd called her one day in 2015 with a project that potentially married the foundation's passion for both veterans and mobility: a new YMCA facility with specialized services and outreach for veterans. The perfect match was sweetened by the fact that the new facility would be built in Pike Township—the hospital's neighborhood.
"The OrthoIndy Foundation has proven to be the perfect partner on the new YMCA in Pike Township," said YMCA of Greater Indianapolis president and CEO, Eric Ellsworth. "Our goals align, and their team has the passion and means to support our vision of serving veterans and the community in new and exciting ways."
A Space for Veterans
The new OrthoIndy Foundation YMCA at Pike Township is the first in the nation to offer specialized medical services for veterans, in partnership with the Richard L. Roudebush VA Medical Center. The new 56,500-square-foot center will include a pool, gymnasium and a demonstration kitchen, all upgrades from the current Pike Y, which the OrthoIndy Foundation YMCA will replace.
Just outside the building sits "Salute," a sculpture by Clay Enoch of the National Sculptors' Guild. The sculpture features five service men and women representing each branch of service atop two 8-foot walls. With a donation to the OrthoIndy Foundation YMCA, veterans' names can be added to the sculpture.
Purcell-Jones says that watching the groundbreaking for the OrthoIndy Foundation YMCA last month exciting. "This project is the perfect union of OrthoIndy Foundation's core values with a need of the community. We do this work at CICF every day for our donors, but seeing the community transformation that results from their generosity never gets old."
---
Read more about businesses partnering with CICF: