by Travis Smith, CFRE
Director of Development & Gift Planning
---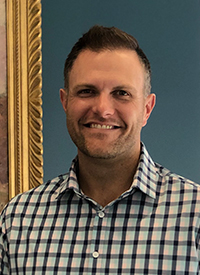 As we continue to navigate through this global pandemic, it is important to keep in mind that not all residents of Central Indiana will have an equitable return to normalcy once COVID is behind us. While many will begin that daily commute to the office, others will wake up still searching for employment, a safe place to live, or their next warm meal. As we begin to embrace family and friends once more, some will mourn the loss of a loved one. A return to normalcy will be difficult—if not impossible—for so many due to inequitable systemic barriers that have endured in our society for so long. We understand this. We are committed to making meaningful and lasting change, and it starts with our mission.
The mission of CICF and its affiliates, The Indianapolis Foundation and Hamilton County Community Foundation, is
to mobilize people, ideas, and investments to make this a community where all individuals have equitable opportunity to reach their full potential—no matter place, race or identity.
To realize this mission, and to ensure all individuals have equitable opportunity, we have learned, adapted and partnered with individuals and organizations in our community to focus on five primary initiatives in Marion County and three pillars of work in Hamilton County.
Our Marion County initiatives are:
family stabilization
economic mobility
criminal justice reform
neighborhood empowerment and placemaking
dismantling systemic racism
And, the Hamilton County pillars are:
mental health
family and youth empowerment
inclusive economic growth
All of these primary focus areas, and the strategic initiatives attached to them, help create neighborhoods and environments that empower people, change systems that unfairly hold people back, and dismantle systemic racism.
Philanthropy is a voluntary action, and we hope that through continued commitment and heightened awareness of our mission, we can inspire the Central Indiana community to join us in our efforts.
---
We believe effective philanthropy leverages informed decision-making. As many of our planned giving donors are active in the community as volunteers and board members, we share the following three points which may be of help in your service throughout the community.
Giving by Americans in 2020 reached an all-time high of $471.44 billion. This reflects a 5.1% increase over 2019.
Not-for-profits are wise to focus on growing their base of individual donor support. In fact, giving by individuals represented 69% ($324.10 billion) of 2020 charitable activity, an increase of 2.2% over 2019 giving. This category of giving has increased in 4 of the past 5 years.
Giving by bequests increased 10.3% in 2020 over 2019 activity to a total of $41.91 billion, representing 9% of overall contributions.

 
(Source: Giving USA 2021: The Annual Report on Philanthropy for the year 2020)
---
There are numerous projects and strategies within our initiatives that are underway and require community-wide investment.