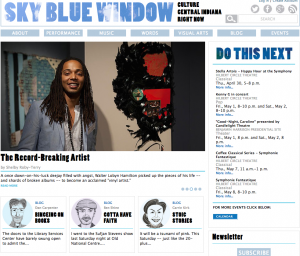 Sky Blue Window writers receive awards in column and arts and entertainment writing for CICF-supported arts website
Indianapolis, IN (April 28, 2015) – Three contributors to Sky Blue Window received Society of Professional Journalists awards on Friday, April 24th during the Society's Best In Indiana Journalism awards banquet at the Indianapolis Marriott North.
Sky Blue Window editor Jami Stall earned first-place recognition in the Arts and Entertainment Writing category for The Director's Cut, a story about local video and TV producer and filmmaker Matt Mays. Dan Carpenter received third-place recognition in the Column Writing category for Bibliophile's Confession, a lament about vanishing bookstores and Carpenter's role in their demise. For Caring Out Loud, an article by Cathy Kightlinger about David Murray, Butler University music professor and principal bassist for Indianapolis Chamber Orchestra, received third-place recognition in the Arts and Entertainment Writing category. All awards were earned in the Society's "Magazines and non-daily newspapers" category. Launched in March 2013, Sky Blue Window is a not-for-profit news and information website created to build demand for the arts in Central Indiana. It is supported by Central Indiana Community Foundation and features content from professional writers and contributors as well as collegiate journalists from Butler University and Franklin College. Sky Blue Window has attracted more than 150,000 users and 346,000+ page views since its launch on March 11, 2013.
ABOUT CENTRAL INDIANA COMMUNITY FOUNDATION: Central Indiana Community Foundation (CICF) is a $720 million public foundation transforming the lives of Central Indiana residents in three ways: consulting donors, family foundations and their professional advisors on charitable giving; awarding grants to effective not-for-profit organizations; and providing leadership to address community needs and seize opportunities. CICF was established in 1997 as a partnership between The Indianapolis Foundation, serving Marion County since 1916, and Legacy Fund, serving Hamilton County since 1991. For more information about Sky Blue Window or CICF, visit cicf.org, or contact Mike Knight at mikek@cicf.org or call 317.634.2423.