Center For Working Families helps woman declare self-sufficiency.
Avia Boss felt hurt, scared and overwhelmed—she thought she didn't want to live anymore. A single mom of four, Boss had lost her own mother and two jobs in the space of just six months. Boss says God's blessings and Center For Working Families at Edna Martin Christian Center changed all of that.
Boss is like many Hoosiers who have found hope in CICF's Family Success Initiative programs and partners, including Center For Working Families.
In 2013, Boss began working with the Indianapolis Neighborhood Housing Partnership to take the first steps in purchasing a home for herself and her two youngest kids, ages 12 and 14. She'd had a secure job for 10 years, but knew the risks involved in purchasing a home and wanted to be smart, so she asked for help.
Through Center for Working Families programming Boss learned to understand and control her finances. She also took advantage of an Individual Development Account (IDA) where she was able to earn $3 for every $1 she saved (up to $3,000). The IDA program allowed her to pay for the closing costs and inspection on her new home.
"I felt empowered," says Boss. "It was such a blessing and such an awesome opportunity. Not just to own a home, but the education behind it."
Boss says it felt incredible involving her children in the process because they saw how hard she was working to buy them a home. Her financial leadership inspired her oldest, 24-year-old son to create an IDA to help pay off welding school.
But Boss lost her job in August of 2014 and everything changed.
Devastated and emotionally rocked, Boss eventually walked right back into Edna Martin Christian Center and asked Tawnya McCrary, project coordinator for Edna Martin Christian Center, for help.
"She's indicative of the people that come in," says McCrary. "It's really one of those things that it doesn't matter if you have financial coaching or income support. If the person is emotionally disconnected, you have to deal with that first."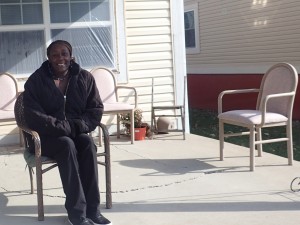 McCrary offered her encouragement and together they worked through Boss' emotional devastation. McCrary advised Boss to start building her resume and applying for jobs using the free computer lab.
In October, Boss found a position in the field she wanted, but after orientation and training, was told that her eligibility for hire had been compromised because she had previously been let go from a similar position.
"It was like someone knocked the wind out of me…again," says Boss. She admits being so hard on herself that sometimes she didn't even have the strength to get out of bed or go on with the day.
Discouraged, she reached out again to Tawnya for support and then continued her search. Not long after, Boss interviewed for and accepted a temporary position at Edna Martin Christian Center's day care until an opportunity for a position in her preferred field opened.
"If I hadn't had that [financial] education and information, I'd be in a different spot now," Boss says. "I am better about saving money and making sure it's directed the right way. The needs and wants are prioritized better."
Boss seeks refuge from her uncertain future in her faith and believes everything happens for a reason. She admits that staying positive is a full time job in itself, but refuses to give up.
"Don't lose hope. Just because today looks dark, that doesn't mean tomorrow won't have sunshine," she advises.
While she continues to wait patiently for the right door to open, Boss finds peace and reward in walking through another opened door – a door that leads to her very own garden at the place she worked so hard to call "home".