CICF guides IBJ's Forty Under 40 in strategic philanthropy
Not just anyone makes IBJ's annual Forty Under 40 list. It's an amalgamation of movers and shakers from nearly every industry. For the second year, CICF partnered with IBJ's Forty under 40 program and invited the cohort of diverse thought-leaders to award $40,000 to local not-for-profits. The catch? They all had to agree.
There's a science to strategic and harmonious philanthropy. It takes thoughtful discussion and mutual respect. That's why CICF's philanthropic services team led the cohort in a Wise Giving Workshop, just as they do with many families, to discover participants' individual philanthropic values and interests.
"It was great to learn more about how to give thoughtfully and purposefully, with impact," says 2016 honoree, Ronan Johnson of Taft Stettinius & Hollister LLP. "It was also a unique opportunity to get to know some of the Forty Under 40 honorees better."
The cohort developed a unique mission statement to guide their grantmaking decisions:
We are a group of community-focused leaders that believe in equal opportunity and access to education, health and economic sustainability to promote strong families and reduce poverty.
CICF community investment officers invited organizations that best aligned with this statement to present to the cohort the following week. Each organization had five minutes to speak and five minutes for questions. The cohort collaborated with one another, using their mission statement as a driving factor in the final grant allocation decision.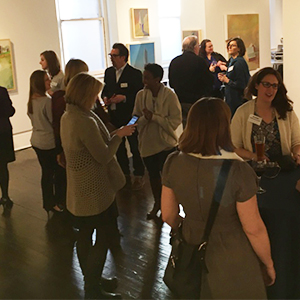 The group decided to award $15,000 to OpportunINDY to provide transportation services for young Black men in the 46218 zip code (identified as an Opportunity Zone) during non-school hours to experience opportunities in culture, employment and education. Another $25,000 was allocated to John H. Boner Community Center to support the creation of a neighborhood-led taskforce that will bring innovative solutions for low performing IPS schools on the near eastside.
"I think the Forty under 40 cohort recognized how powerful this opportunity could be for our community, and that an investment now could help create a model that would impact children and their families for decades to come," says James Taylor, CEO of John H. Boner Community Centers.
Politicians, lawyers, not-for-profit executives, entrepreneurs—the forty individuals honored by IBJ are shaping our community's future, and CICF is proud to support and partner with them along the way.
"The Grantmaking Program was one of the most rewarding parts of being a part of Forty Under 40. IT MADE THE IBJ RECOGNITION EVEN MORE SPECIAL."


– Krista Hoffmann-Longtin, assistant dean for faculty affairs and professional development, Indiana University School of Medicine & 2016 HONOREE