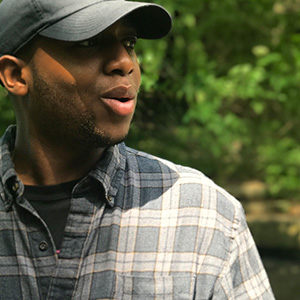 The scholarship committees at Central Indiana Community Foundation first met Alvin Laguerre in 2016 when he was one of nine other students in Marion County awarded, the 4-year, full-tuition Lilly Endowment Community Scholarship. He also received two other competitive scholarships from CICF—The Indianapolis Foundation and Walter Blackburn Scholarship. Alvin's passion for education and desire to become an architect was real and palpable. It's hard to forget a student like Alvin.
CICF reached out to check-in with Alvin, now 19 years old and a sophomore at Ball State University. He's changed over the past three years, and yet, in many ways, he is the same. He still studies more than most college students and he still wants to utilize thoughtful and creative design to help people. But his plans changed last year when it was announced that the temporary protective status the United States had offered Haitians since 2010 would be ending. By June 2019, a year before he would graduate from college, Alvin, his parents and two brothers (17 and 7 years old), must leave the country they have come to love, or face deportation.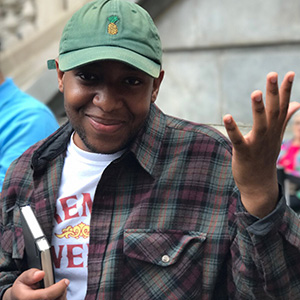 "You develop passion and love for this country," says Alvin. "You devote your time and spirit to the country, then it is ripped away. It doesn't make sense to me."
In 2009, when Alvin was in sixth grade, his family fled Haiti fearing for their lives, a result of significant violence and corruption plaguing the country. One year later, an earthquake devastated Haiti, killing nearly 300,000 people and displacing 1.5 million others. As a result, Haitians were given temporary protected status—a label for immigrants that are temporarily unable to safely return to their home country because of ongoing armed conflict, an environmental disaster, or other extraordinary and temporary conditions.
"You devote your time and spirit to the country, then it is ripped away. It doesn't make sense to me."
While time has passed since the earthquake destroyed much of Haiti, violence, corruption, unemployment and poor healthcare still threaten the people living there. Alvin says that going back to Haiti is not an option for his family.
"It's pretty obvious that going from Indiana to Haiti would be unsafe. We came here [to America] to seek shelter and refuge. Sending us back to a place that we know is not safe has been traumatizing."
Alvin tries to stay focused and motivated during his sophomore year, while still remaining aware of his situation. He is trying to take the high road.
"I've learned to understand that Trump may not have been exposed to the same things in my life. I can't expect him to feel the same way I do," says Alvin. And yet, searching for solutions still feels like empty brainstorming to Alvin because his family doesn't qualify for many pathways to citizenship right now. "We want to take the legal way to obtain citizenship, but I don't have the answer."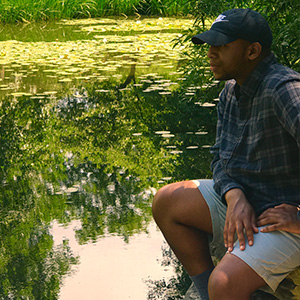 Alvin stood out during his 2016 scholarship interview because of his belief in his own potential and the long-term goals he had already set. Now, fear and uncertainty have made him unable to picture his future as clearly. But Alvin's strong faith and passion for art keep him going. He plans to use his study of architecture, paired with his immense love of music and art, to tell stories as a filmmaker.
"Growing up I have always had characters that uplifted me—Spiderman, Batman. I relied on those heroes to bring me hope," says Alvin. "Black Panther came out and had a beautiful soundtrack, a beautiful story and beautiful architecture. That movie completely embodies what I want to do. I want to be able to reach people's spirit."
Music has significantly influenced Alvin's life in the United States, it even helped him learn English. He says, "Music is the most beautiful American thing I have ever experienced."
"…We have the same hopes for our families. Even though we are from different cultures, we all have similar goals in life."
While Alvin will tell you over and over that he is thankful for the opportunity to pursue his college education, he'll also admit being disappointed that those opportunities seem set to expire in June 2019.
Nothing in Alvin's life has come without hard work and an infectiously positive attitude. He wants to use his voice, music and design skills to create positive change, and he hopes to be a light in a sea of negativity.
"I want to tell people that I am not special in any way. We struggle just like you. Similar to Americans, we also hurt, we also go to school, we also seek opportunities," We have the same hopes for our families. Even though we are from different cultures, we all have similar goals in life."
Alvin is a very special young man. His story, though, is not unique. Alvin is like many CICF scholarship recipients, and many other students across America. CICF makes its scholarships available to everyone because we believe that every person deserves equitable opportunities to reach their full potential, no matter their place, race or identity. Central Indiana is stronger for the contributions of the immigrant community, including Alvin.