***This piece is part of our content presented at Inclusive City 2020. On Oct. 28, 2020, from the stage of the Madam Walker Legacy Center, we revealed plans to dismantle systemic racism in Central Indiana at Inclusive City 2020. Learn more about that event here.***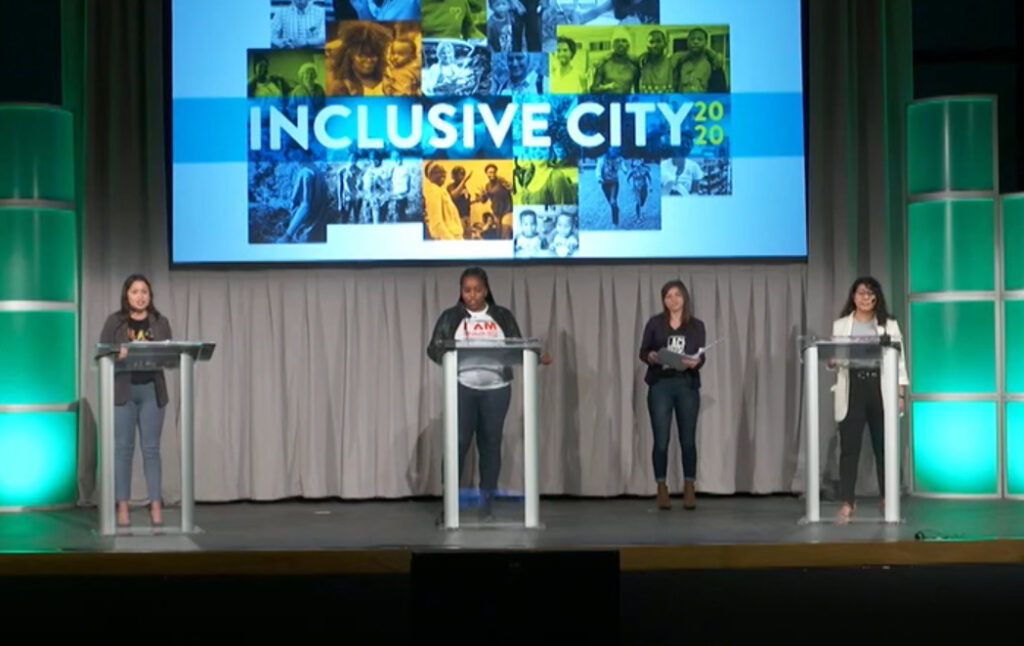 This was a collaborative piece presented by:
Kyra Harvey –Indy10 Black Lives Matter
Ali Tabb –Standing Up for Racial Injustice (SURJ)
Maricruz Luna –Indiana Undocumented Youth Alliance (IUYA)
Guadalupe Pimentel Solano –community leadership officer at CICF
---
Together, we have created not promises to our community but instead demands for leadership in our community. When the systems and laws of this community were established, only White men were at the table. When the Constitution was written by White men, it only established freedom and liberties for White men. The time for change is now. 
"We the People of Indiana, in order to form a more Inclusive Union, to establish justice, to provide access and opportunity, to promote the dismantlement of systemic racism, and to secure the blessings of economic mobility and empowerment to all, do ordain and establish this public letter to the leaders of Indiana."
Article One  
Dear Leaders:  
We demand that you delegitimize the White supremacy culture that shapes our institutions and businesses.  Black and Brown lives matter more than white feelings, and our reality will not reflect this until we radically redistribute power and privilege in our society. 
We demand that you prioritize equitable education that represents our communities and creates the leaders who will build a better world. Whitewashing history perpetuates White supremacy.   
We demand that every student be guaranteed meals in school. Ending lunch shaming is the bare minimum we must do to address child hunger in the richest country on earth.   
We demand transparency and accountability from law enforcement when a citizen files a complaint.  Until we invest in safer communities that don't rely on the violence of policing, the least you can do is own up to your mistakes.   
We demand that you who are in power take action; you must do more than attend and applaud events about diversity, equity and inclusion. 
Article Two
Dear Leaders:  
We demand a moratorium on building new jail cells. Selling bodies for cheap labor supposedly ceased in 1865. 
We demand the end of cash bail. The American value of innocent until proven guilty should have a cash value placed on it .   
We demand the reallocation of funds from the police to social services. We need investments in our communities and counseling for the root problems, not consoling after the newest hashtag. 
We demand justice for Dreajson Reed and Mchale Rose. We demand to know what happened to Keyshawn Stewart and Kerrington Tompkins. We demand IMPD be removed from mental health calls, so murders like Christopher Goodlow and Eleanor Northington won't happen again.
We demand public and immediate condemnation of elected officials by their peers—both red or blue—when their position of power is used to disseminate division through racism, sexism, homophobia, antisemitism, islamophobia, xenophobia, transphobia, or any other form of hatred.
Article Three  
Dear Leaders:  
We demand a bill to provide our undocumented residents the opportunity to obtain driver licenses. Economic mobility is hindered when mobility is oppressed.
We demand the revoking of xenophobic bills that prevent undocumented students from access to state financial aid and the right to a fair and equal education right to a fair and equal education. 
Aiding our people cannot be just words; put your money where your mouth is.  
We demand undocumented residents have the right to unemployment benefits.
During this pandemic, people are forced to either save their lives or deplete their life savings. 
We demand programs be erected to provide loan opportunities for the immigrant and undocumented community. You promote the American dream but will not finance the dream of the Dreamers.  
These are our amendments to a system that has systematically oppressed generations of our nation who have not identified with the status quo of a White, cis-gendered straight Christian man.  
And while we respect the leaders who came before us, know that we are not waiting for an invitation into your ivory tower board room or a fancy new title behind our names.  
We are entitled to use our power to create a community that works for all NOW—and all of us will continue to push forward in this work. 
And we are not going anywhere.  
Signed,  
The New Generation of Power  
---
UP NEXT: Pamela Ross, CICF vice president of opportunity, equity and inclusion identifies the power of authentic relationships