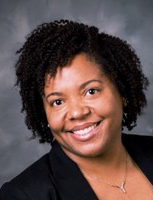 Meet Leslie Bowles. Bowles is the new Senior Director of Philanthropy & Community Engagement at Women's Fund Central Indiana. In this newly created role, she will provide strategy, direction, and oversight for all aspects of Women's Fund's fundraising, cultivation and stewardship.  
---
What excites you about your new role?
I am so excited to join the Women's Fund of Central Indiana team! For almost 25 years we have been focused on improving the lives of women and girls in our community. As a Black woman, I am impressed with our commitment to investing in programs and resources that uplift every woman in our community and acknowledging the additional barriers Black and Brown women face. I am excited to connect with women in our community who are committed to advancing access and equity and helping to raise funds to increase our impact in Central Indiana.
In this past year, what book, movie or album resonated with you in the strongest way and why?
During the COVID-19 pandemic and racial awakening America has been reeling from in 2020, I had a lot of time talking with my children about racism in America and how they are feeling. As a result, I spent time reading (and re-reading) books about race in America. After listening to a podcast, I read "My Grandmothers Hands: Racialized Trauma and the Pathway to Mending Our Hearts and Bodies," by Resmaa Menakem. The book struck me because he talks about the intergenerational trauma of White supremacy and how it not only affects Black and Brown Americans, but all Americans. So often Americans want to read a book, have a quick conversation and wash their hands of dealing with issues of race, in particular White supremacy, but this book was a reminder that racialized trauma is embedded into our culture and there is so much work for us to continue to do if we want to really deal with mental and emotional trauma.
What's one thing you're learning now, and why is it important?
I am learning to take time for myself. As a mother of three—Phillip (12), Samantha (6) and Jacob (5)—and wife, like many women, I have often put unnecessary pressure on myself to do everything. Cooking, cleaning, helping with homework, playing games with my kids and all of the things that society has said are "our responsibility." For years my husband has asked to help more, but I have struggled to let go for the sake of perfection. Seeing so much pain and death over the past year has taught me to follow author Tiffany Dufu's advice and Drop the Ball by sharing responsibility with my husband, giving myself grace, and making time for myself so I can take care of others.
What's your favorite way to unwind after a busy day?
At the end of every day, I try to spend at least 30 minutes reading. It helps me to relax and focus on something outside of myself. I also love to cook for my family and now that my kids are getting older they like to help me in the kitchen
What's your most recent act of equity?
As a woman of color, I recognize the importance of supporting other women of color, who unfortunately are often overlooked by colleagues and leadership in many organizations for promotions, trainings, and opportunities for growth. Particularly at this moment where women are losing their jobs at unprecedented numbers, I am making myself available to younger professionals. I have spent time during the pandemic having virtual meetings with young professionals, helping them with their resumes and interview preparation, and connecting them with people when I hear of open positions. During my career, I have had people of color who made themselves available to me and I feel it is important to be a resource to young professionals.