$25 million Lilly Endowment grant supports partnership with the City of Indianapolis for design, construction, and community engagement and support

Today, Central Indiana Community Foundation (CICF) announced it has received a $25 million grant from Lilly Endowment Inc. to support the Connected Communities Initiative, a collaboration with the City of Indianapolis. The funding will significantly expand and enhance pedestrian and bicycle infrastructure in Marion County, with a focus on improving access and opportunity for underappreciated communities.
High transportation costs and uneven access to opportunity are at the heart of inequity in Indianapolis. Improvements in transportation and connectivity can help the City of Indianapolis achieve its vision of a healthier, more resilient, and more inclusive community. The Connected Communities Initiative has been convening partner organizations, neighborhood residents and other stakeholders since the fall of 2015. Informed by these relationships and City plans—including IndyMoves, Indy Greenways Full Circle Plan, and neighborhood plans—the Connected Communities Initiative has prioritized equitable investment in areas with higher concentrations of people with disabilities, people of color, young people, older adults, households without vehicles, people with limited English proficiency, and people living in poverty. Individuals in these populations often need alternatives to driving a car to move around the city and they live in neighborhoods that have historically lacked adequate sidewalks and other basic transit infrastructure.
The grant for the Connected Communities Initiative will fund planning, wayfinding, and the design and construction of both on-street and off-street protected pedestrian and bicycle infrastructure, such as multi-use paths and greenways. This includes the building of a total of 7.25 miles of new greenways, as well as 4 miles of on-street protected bicycle infrastructure. The grant will also support efforts to make sure that people living in the neighborhoods that will benefit most from the trails and greenways will be involved in their development and engaged in programs to activate their use.
The grant also includes $5.25 million in matching funds that will be available to leverage an additional $18.75 million in state and federal dollars to construct an additional 25 miles of new greenways. This funding further catalyzes Indianapolis Mayor Joe Hogsett's recent announcement of $25 million in investments in trails and greenways as part of Circle City Forward Phase 3. The combined $50 million in investments are critical to evolving the current greenway and trails into a key component of the city's multimodal transportation system.
"Indianapolis spans a large land area, which can make it challenging to navigate for residents who are dependent on alternatives to cars," said Ronni Kloth, Lilly Endowment's vice president for community development. "We are pleased to support the Connected Communities Initiative, which will provide residents with greater access to trails, greenways and other destinations and foster stronger connections between neighborhoods."
Through a focus on underserved populations and neighborhoods, Connected Communities in partnership with the City of Indianapolis aims to design and build high-quality infrastructure to improve access to transportation options, basic needs, and opportunity for all. Additionally, by increasing connections to parks, greenways, and mass transit, residents will have safer pedestrian-friendly roadways and increased opportunities for physical activity that can greatly improve the social determinants of health.
"This investment will help close gaps to increase equitable access to job opportunities, education, healthcare, healthy food, recreation, and social and cultural destinations for previously underappreciated neighborhoods." 
"This investment will help close gaps to increase equitable access to job opportunities, education, healthcare, healthy food, recreation, and social and cultural destinations for previously underappreciated neighborhoods," said Brian Payne, president and CEO of CICF and president of The Indianapolis Foundation.
"Today's announcement leverages the City's historic greenway investments over the past six years, especially the $25 million boost through our Circle City Forward initiative," said Mayor Hogsett. "With support from Lilly Endowment, the City is excited to partner with CICF to combine public, private, and philanthropic support to expand and enhance pedestrian and bicycle infrastructure throughout Indianapolis."
Highlights of the funded projects include the construction of 5 miles of new B&O Trail to complete a 16.65-mile corridor connecting the Near Westside neighborhoods of Haughville, Hawthorne, and Fairfax to Speedway and Brownsburg to the west, and to the planned Michigan Street protected bike lane into downtown Indianapolis to the east. Other projects include planning, design, and construction of improved pedestrian and bicycle connectivity in the Martindale-Brightwood neighborhood, improving access to the Monon Trail from the east and Pogue's Run from the north.
"The combination of these on-street projects with the new and expanded greenways will bring us closer to the county-wide connected and comprehensive greenway network that supports and expands our city's multimodal transportation options," said Damon Richards, executive director for Bike Indianapolis.
In order to improve access and broaden engagement to both the current and future system, the Connected Communities Initiative will develop new programming through partnerships with Freewheelin' Community Bikes, Bike Indianapolis, Greenways Partnership, Groundwork Indy, and Indiana Pacers Bikeshare. These partnerships will focus on improving the visibility of and accessibility to the new greenways, trails, and protected bike paths so that more people will be able to choose these transportation options.
The Initiative will invest in wayfinding to call attention to these new nodes of connection throughout the city, and a new comprehensive bike map will be distributed widely to help residents and visitors navigate the full network. Additionally, an investment is being made to establish a Greenways Stewardship Fund held by CICF that will support the ongoing maintenance and beautification of the city's greenway network.
---
ABOUT LILLY ENDOWMENT INC
Lilly Endowment is an Indianapolis-based, private philanthropic foundation created in 1937 by J. K. Lilly and his sons, Eli and J.K. Jr., through gifts of stock in their pharmaceutical business, Eli Lilly and Company. While those gifts remain the financial bedrock of the endowment, the endowment is a separate entity from the company, with a distinct governing board, staff and location. In keeping with its founders' wishes, the endowment supports the causes of community development, education and religion. Although the endowment funds programs throughout the United States, especially in the field of religion, it maintains a special commitment to its hometown, Indianapolis, and home state, Indiana.
---
Full LIST OF PROJECTS
Construction projects supported by the grant include:
B&O Trail (5 miles of new trail to complete a 16.65-mile corridor – Near Westside)
Grassy Creek Trail (1.75 miles of new trail – Far Eastside)
$5.25 million towards the completion of northeast leg of Fall Creek Trail, Nickel Plate Trail, and Eagle Creek Trail
Andrew J. Brown Ave (1.5 miles of protected bike lane from 16th to 30th streets)
30th Street (1.5 miles of off-street trail from Dr. Andrew J. Brown Avenue to Boulevard Place)
38th Street (Traffic-calming interventions between Cold Spring Road and Meridian Street)
Olney Street (1 miles of improved access from Pogue's Run Trail to IPS School 51)
10th Street (Sidewalk improvements on the northside of 10th Street along edge of IUPUI campus)
Urban Wilderness Trail (.5 mile of new trail to connect two existing cross-country trails – Downtown/IUPUI)
Planning and design of pedestrian and bicycle improvement projects include:
Broad Ripple Avenue (Primrose Avenue at Broad Ripple Park to Keystone Avenue)
16th Street (Main Street of Speedway to Roosevelt Avenue and I-70)
30th Street (Moller Road north of Speedway to Boulevard Place)
38th Street (Cold Springs Road to the Monon Trail)
Programming Partnerships include:
Greenways Full Circle Plan Update (Funding for new Greenways Plan)
Wayfinding (Funding to make it easier for people to find and use trails and greenways, with an emphasis on new access points)
Marion County Bike Map (Upon completion of projects a user-friendly map of the system and connection to multimodal options)
Groundwork Indy (Trail-based land stewardship training for youth)
Freewheelin' Community Bikes (Bicycle repair programs for youth)
Bike Indianapolis (Bicycle safety training)
Indiana Pacers Bikeshare (New stations and subsidized bikeshare passes)
Greenways Partnership (Programming partnerships for trail activation)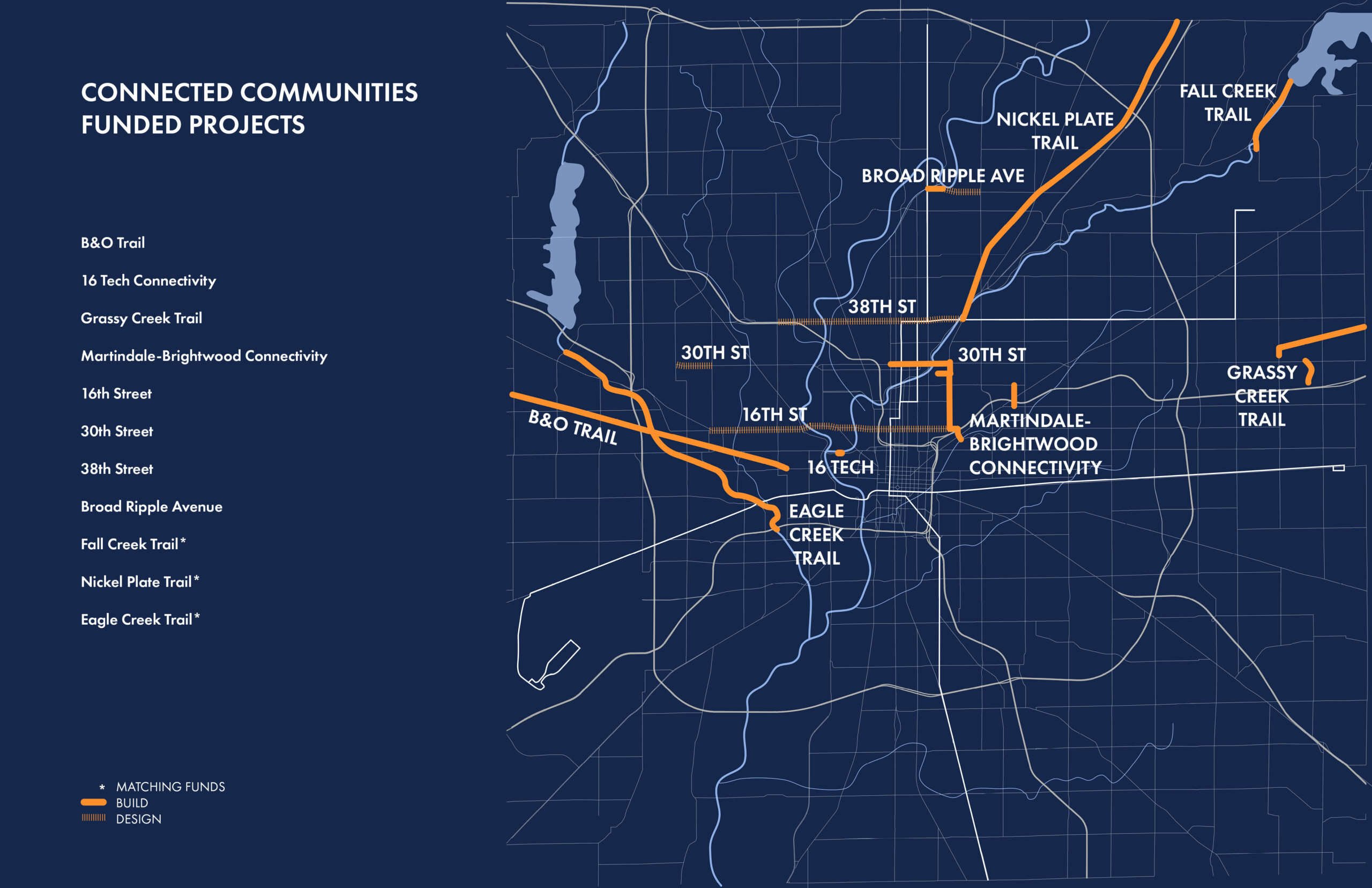 ---
Community Voices
"At least 100 times a year,  I ride my bike from the Crown Hill Neighborhood to the Martindale Brightwood Community via 38th street and the Monon Trail since the church I attend (Great Commission Church of God), the Little League I volunteer for (Frederick Douglass Little League at IndyParks Oscar Charleston) and various neighborhood organizations and community events that I support are located in Martindale Brightwood. I love it when I see families on their bikes and anything that the city can do to improve pedestrian and bicycle safety is important. As some of the neighbors in both the Crown Hill Neighborhood and Martindale Brightwood community like to say: "120 is Enough". 120 bicycle and pedestrian accidents with motorists every decade is too much."
—Charles Tony Knight
Martindale Brightwood One Voice Neighborhoods Collaborative Board Member
"I love to ride my bicycle with my sons, grandsons, and friends all over the city…the B&O Trails coming down Michigan Street will allow us to go West. The trail also will allow me to start from my home and not have to travel to get to a smooth surface trail. So, "The William's Family Bicycle Club"  (smile) is excited about the work on the B&O."
—Olgen Williams
Haughville Strong Leadership Council
"The development of the B&O Trail will make a good portion of Haughville more bikeable/walkable for local residents and stakeholders. The trail is crucial because it will provide a safe and enjoyable alternative form of transportation that will connect neighborhoods that have been neglected for decades to downtown."
—Aaron Laster
Haughville Resident & Real Estate Entrepreneur
"The B&O trail has the potential to not only physically connect communities, but also to link residents around common interests such as health and wellness. Watching Speedway residents assist Haughville residents in the post-construction cleanups is the type of collaboration I hope the trail fosters between communities."
—Ben Rose
Community Volunteer & Organizer 
"As an advocate for improving the quality of life for the Far Eastside community we are looking forward to the expansion and investment in Grassy Creek Park. Investing in our public spaces is an investment in our residents that create positive impacts on physical and mental health."
—Cheria Caldwell, MPA
Vice President of Communications & Engagement at Community Alliance of the Far Eastside (CAFE)
"We are incredibly excited to expand our current programming to new neighborhoods so that more of our Indianapolis youth have the opportunity to learn to safely ride and build and repair their own bikes."
—LaNisha Clark
Freewheelin' Community Bikes
"Investments in greenways, trails, and pedestrian and bicycle infrastructure support the physical, mental and environmental health of our community. We are excited to partner with Connected Communities in this effort."
—Dr. Lisa Harris
CEO of Eskenazi Health
"This once-in-a-generation opportunity is only possible because of the tireless decades-long work of neighborhood residents, bicycle and pedestrian advocates. We are incredibly grateful to Lilly Endowment Inc. for joining us in realizing this vision."
Michael Kaufmann
Connected Communities Project Manager