By Noah J. Sandel
---
In preparation for the 10th anniversary of PitchFeast, we explore one of the many transformational stories that were discovered through the event.
PitchFeast is more than a pitch-style event – it is an experience.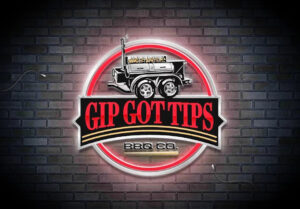 Gip wasn't the first Gip. Dwayne "Gip" Gibson found his professional moniker through his father's nickname. Maybe that's all you need to know about the BBQ experts that are Dwayne and Stephanie Gipson – their culinary talent comes from the soul. People claim you're either born with it or you're not. And Gip?
We don't have to tell you why Gip Got Tips, an Indianapolis BBQ restaurant that specializes in smoked meat, is becoming a go-to stop for many in Central Indiana. But Dwayne's journey took grit and ambition, much like the paths of many entrepreneurs who find their way, chins up, gracing the stage at PitchFeast.
Dwayne will tell you, "I was known as the sandwich guy." The chicken salad sandwich, which is still offered through Gip Got Tips, is what stamped Gip's foodie footprint in the city where he was born and raised. After his beginnings in the Second Helpings Culinary Program, slinging together hope and crafted knowledge behind the counter and rising up in the catering industry, working with five-star hotels and county clubs, Gip decided it was past due to bring a backyard hustle to the stage and our mouths. Gip flavors his menu with a unique blend of spices, a taste of tang, and a thirst to share his personal dream of building a carry-out BBQ joint with those who've supported him through the years.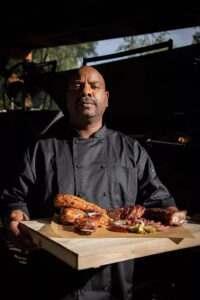 When a call for PitchFeast applications was released in 2022, Dwayne saw the opportunity to do what he's always done: grow, share and make connections through food. PitchFeast showcases 10 local businesses to a group of investors and a live audience who have the opportunity to receive startup capital and wrap-around services to help their businesses grow sustainably. When you hear "group of investors," this event sounds like a suited-up episode of ABC's Shark Tank, a popular television series featuring entrepreneurs who present their company to a panel of tycoons and stakeholders. The difference between the two competitions is community unity. Each PitchFeast finalist, audience member and judge share in the goodness, the awards and the availability of local business acumen.
Dwayne opened up on his night and how PitchFeast has supplied him with the tools and insights to make a lasting brand.
"Winning PitchFeast allowed us to expand our business and increase sales. We purchased much-needed equipment and covered some unexpected expenses. We also love the bragging rights of winning. The personal connections we have made with other Black/Brown businesses and the one-on-one training sessions from the PitchFeast team were more valuable than the cash reward. These relationships have continued to help our business thrive."
"These relationships have continued to help our business thrive."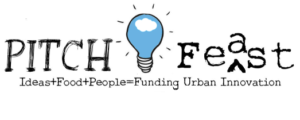 Dwayne and Stephanie have made the Gip Got Tips family business even larger by inviting us to share their story. PitchFeast is not a typical pitch-style event because it maintains value each year for each finalist and has done so for 10 years through the PitchFeast organization. Join the audience. You can snag virtual tickets through Eventbrite here. If you want to witness change, community and – with all the puns intended – impact for these remarkable entrepreneurs taking their opportunity to pitch for education, connections, and even startup capital, you can.
PitchFeast will be held in person for special guests at the Collaboration Hub at Hamilton County Community Foundation and virtually via a Zoom link for anybody to become an audience member. With food being served at 5 p.m., the event runs until about 8 p.m. Let's make this Motivational Monday evening into 10 momentous futures for our community to thrive.
---
IMPACT Central Indiana PitchFeast
Monday, Sept. 26
5-8 p.m.
RSVP on Facebook here.
Get your tickets here.
---
PitchFeast is a 501c3 organization that provides under-represented entrepreneurs with essential business development support and technical training and services in order to contribute to the development of entrepreneurial projects and ventures. Its goal is that their work results in positive social and economic development in urban communities around the world through both business and personal skills.
IMPACT Central Indiana is a multi-member LLC created by Central Indiana Community Foundation, The Indianapolis Foundation, and Hamilton County Community Foundation. Its goal is to facilitate social impact investments into businesses, funds, entrepreneurs and not-for-profit organizations that generate positive and measurable social impact in the community.