In partnership with PitchFeast, IMPACT Central Indiana hosted its pitch competition on Sept. 26. All the entrepreneurs shared creative concepts and brought a passion to impact. In the end, we were able to invest in three Black and Brown-led businesses with investment capital and other wraparound services. These investments ignite innovation in our community.
---
ABOUT THE WINNERS
VANESSA GORHAM (360 Cleaning Services LLC.)
—First place, $25,000; Audience choice, $5,000

A spin-off business from another one of Vanessa Gorham's ventures, 360 Cleaning Services was established in 2017. With affordable rates, exceptional service and remarkable results, each client is guaranteed to be satisfied. They offer a large range of residential and commercial cleaning services in the Greater Indianapolis area. From deep cleaning and disinfecting to construction clean up and hauling, 360 Cleaning Services truly has you covered for any cleaning need.
TREZANAY ATKINS (tmalaw | the lawyer for brands™)
—Second place, $15,000; Butler University Financial Management Association (FMA), $1,000

After working with some of the world's largest intellectual property rights organizations, tmalaw was designed to provide minority and women-owned businesses three trademark and brand services:
brand protection
brand defense
brand licensing.
In hopes to close the wealth gap and build legacies in our communities, she works to cover ownership rights and collaborations to authorized use and damage navigation. Smart results come from protection and protection comes from you.
DANIELLE OGLESBY (The B.A.E. Bar, LLC.)
—Third place, $10,000
Offering on-site hair styling & make-up service, The B.A.E. Bar provides accessible beauty services for all women. By fostering an innovative and inclusive environment allowing customer confidence in hair texture and styling, The B.A.E. Bar honors, highlights and styles with trust and expertise to ensure a beautiful look. They have worked with clients like Jack Daniels and Finish Line while working with Textured Management, a celebrity hairstyling management company, to serve celebrity clients, such as Natasha Rothwell.
---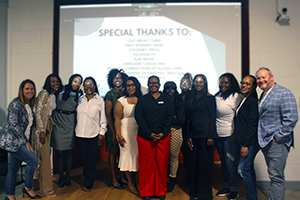 Other participants included:
Capture Me Photography
Consistent Care Transit
Core Beliefs Coaching and Consulting
KayRen Consultation
Taste Buddies LLC
The Nia Box
Thirty-One 13 Creations
---
GET INVOLVED
IMPACT Central Indiana provides donors with an impact investment vehicle—a donor IMPACT account—through which they can use charitable dollars to invest in for-profit and not-for-profit enterprises that have a social or charitable component. Successful investments will then flow back into the donor's IMPACT account and can be redeployed in subsequent IMPACT investments.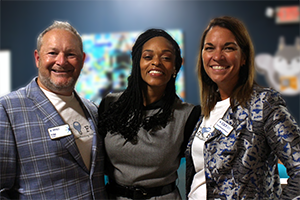 QUESTIONS?
Interested in being involved or investing in the next PitchFeast event in the spring of 2023? Want to learn more about investing with IMPACT Central Indiana or any other aspect of IMPACT Central Indiana's work?
Contact Sarah Weaver, J.D. at SarahW@cicf.org or Tom Kilian at TomK@cicf.org.
---
READY FOR THE NEXT COMPETITION?
Our next impact investment pitch competition happens in the spring of 2023. Stay tuned for more details.