In recent years, June has brought along rainbow flags hanging in storefronts and homes, rainbow-covered merchandise at large and small retailers, and parades and festivals celebrating the LGBTQ+ community. But Pride is so much more than that. 
Pride month is a time for many to joyously celebrate the culmination of many intersections, personalities and identities within the LGBTQ+ community. More than five decades ago, in 1969, what we now know as Pride began as an act of rebellion against the legal discrimination and harassment the community endured, known as the Stonewall Riots in New York City. The Stonewall Riots brought a level of visibility to a community that was forced to hide and was a catalyst for advancing the protection, dignity, and equality they deserve. After Stonewall, hard-fought advances primarily happened in larger metro areas on the coast. However, Indiana was much slower in adopting protective and inclusive legislation for the LGBTQ+ community and that fight continues today.   
Listening to the voices of this community—now often referenced from within as the queer community—is essential for understanding specific obstacles and advancing equity, which is precisely why we interviewed Kristen Matha, Women's Fund of Central Indiana OPTIONS alumnae. 
Getting to Know Kristen

Matha
Being part of the queer community in Indiana has its unique challenges but, according to Kristen, also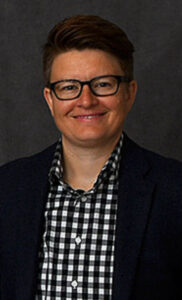 connects members to a strong network of passionate and dedicated people. Kristen is an open member of the LGBTQ+ community, a parent of two, and director of diversity and inclusion at Ice Miller LLP. "We have eight offices across the Eastern part of the United States. I'm responsible for operationalizing our diversity, equity, inclusion, and access strategy across all our offices. I'm also a member of our Racial Equity Solutions Consulting Practice. So, in addition to the workplace-focused efforts, I work with clients on conducting equity reviews and providing implementation services in the DEIA space. I am fortunate to work with some wonderful folks at Ice Miller. who are very committed and passionate about this work, both internally and externally, in our Central Indiana community."  
Kristen's professional life is centered on advancing equity at Ice Miller, but she also lives it out in her personal life. She is passionate about helping the LGBTQ+ community and the Central Indiana community. Kristen is on the board of directors for Women4Change, an organization that provides civic learning and equips Hoosiers to engage in our democracy to achieve better outcomes in health, economic stability and personal safety for women in Indiana. Kristen values what Women4Change is doing from a "civic education standpoint, but also an advocacy standpoint on changing the laws that impact women."
She is committed to public advocacy by volunteering on different political campaigns and supporting Lambda Legal. "My involvement with the community has changed into more of a political advocacy space, and I have been involved with Lambda Legal which is the nation's leading not-for-profit law firm focused on impact litigation that changes the laws in terms of pursuing equal rights for LGBTQ+ folks and everyone living with HIV." Work and politics are only two of the things that Kristen is passionate about—her kids are a central focus. 
Home is Where the Heart Is
Kristen has two children, Micah, who is eight, and Maya, who is six, and their little family added three new feathered members. They, along with Kristen's partner and her daughter, recently have been raising chickens. "We welcomed three chickens in April, and I didn't realize how much I would enjoy sitting and watching the chickens peck around. We call it chicken TV." Kristen tries to spend much of her free time outside – kayaking, hiking, playing pickleball. Her children recently learned how to ride bikes, and it has been an enjoyable activity for the entire family.  
Kristen is not a native Hoosier, but she moved to Indianapolis after being selected as an intern for the NCAA National Office upon graduating from Michigan State University College of Law. She found Indianapolis "to be very welcoming to transplants. It was easy to grow relationships and to get engaged civically."  
As a lifelong athlete, who played basketball at Saint Mary's College (Notre Dame, Indiana), she used her athleticism to connect with people in Indianapolis. Kristen joined the Indy Hoydens, a women's rugby team. She made some lifelong friends and began to build her network in Indianapolis. "When I first came here in my twenties, I was socially trying to plug in, make friends, and meet people." 
History of Pride in Indiana
Kristen's finds that Pride Month is an opportunity to reflect on the history of LGBTQ+ people and movements. "Our advocacy can't be contained to just a month. We need to talk about queer history, Black history, Latinx history. It's America's history. We need to ensure those stories are integrated into our understanding of where we are today."  
In June 2022, a plaque was unveiled on Indianapolis's Monument Circle commemorating the first public pride event on June 30, 1990.   
So much work has been done leading up to that first celebration in 1990 and since that made the Indy Pride Festival and parade what they are today.  Pride is a staple event that has now become part of the culture of Indianapolis. Pride brings the LGBTQ+ community and its allies together from all over the Midwest to celebrate.
Community Makes Indiana Home
While the Indy Pride Festival has continued to grow and welcome larger crowds, Indiana legislation has continued to target the rights of the queer community with laws banning or restricting gender-affirming care and challenges to marriage equality. Those actions can make optimism difficult, but Kristen does not let her hope diminish. Despite being misgendered, the target of slurs and sometimes feeling unsafe, she is continually inspired by the strength of the queer community in Indiana and continues to fight for a better future.   
"The community does come together in times of opposition. I've seen it at the State House and the rallies I've been to. There is a commitment to creating change and wanting Indiana to be better for the kids that come behind us—wanting it to be a safer place for people in the queer community. I think it is a big part of wanting it to be better for the next generation. I was closeted until 2006, and so I feel as though a part of my life was lost, so to speak. I don't want others to go through that."   
Important

LGBTQ+

Icons
Kristen shared the importance of learning about the history of the LGBTQ+ community, including important figures. As a member of the queer community or an ally, knowing more about the past will continue to inform your future. Learn more about each of these queer icons:   
About Women's Fund 
At Women's Fund of Central Indiana, we are dedicated to mobilizing people, ideas and investments, so every woman and girl in our community has an equitable opportunity to reach her full potential – no matter her place, race or identity. We invest in organizations that help women in our focus areas, caregiving, intimate violence, economic empowerment and girls' programs. Learn more about Women's Fund.