—by Mikaili Azziz, Marketing & Communications Associate at CICF
---
Executive directors across Hamilton County gathered at Hamilton County Community Foundation's Collaboration Hub on July 11 for an exclusive training session. The workshop, themed "Organizational Budgeting," was facilitated by Linda Diakite Karessy, founder of Insight Financial Group. 
Attendees left the 2-hour session with a personalized, drafted budget for their organization, as well as newfound knowledge and confidence. 
"Most of us have written budgets previously, but this was my first opportunity to learn how to do it 'the right way,'" said Andrea Davis,

attendee

and executive director at HAND Inc.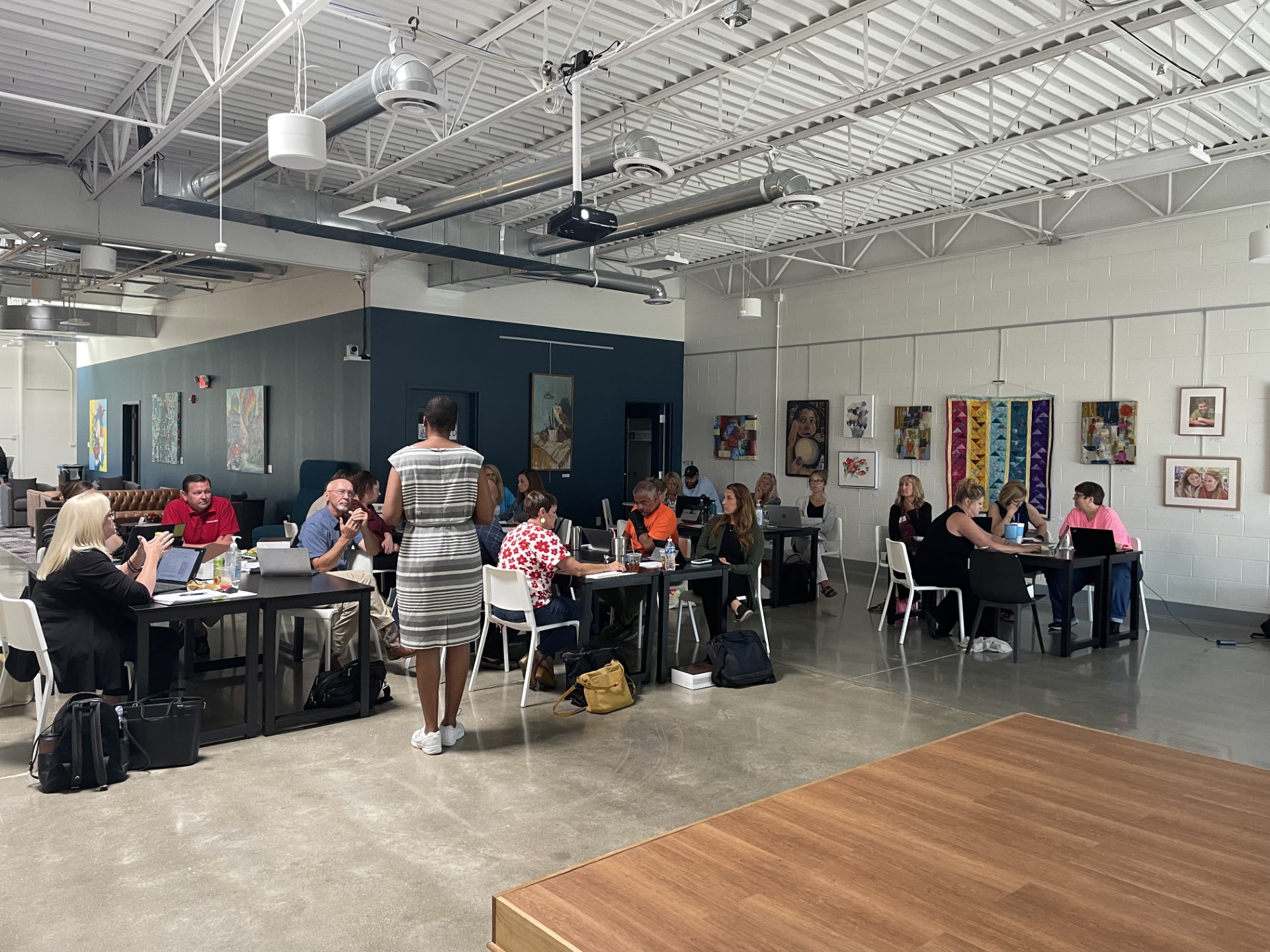 "I was pleasantly surprised to see that I was already doing most of what our trainer, Linda, included on her budget task list template, but it's nice to know what I was missing," Davis added.
The workshop served as part of a larger plan to unify the county's not-for-profit leaders and provide key professional development opportunities. Back in late 2022, Hamilton County Community Foundation teamed up with the Hamilton County Executive Directors, spearheaded by Lauren Guynn of Shepherd's Center of Hamilton County, to brainstorm how to provide capacity-building to the county's not-for-profit leaders in a centralized environment. 
The result of those conversations was a 2023 quarterly training plan, broken into topics that Hamilton County's Executive Directors identified as essential to their roles: 
Q1: Mid-Level Management Leadership and Development Training Series, facilitated by Bensi & Company 
Q2: Organizational Budgeting, facilitated by Insight Financial Group 
Q3: Thriving not Striving in the Executive Direcotr Role, facilitated by Hamilton Professional Counseling 
Q4: Diversity, Equity, and Inclusion Guidance to HC Executive Directors, facilitated by TBD   
"We are so grateful that our Hamilton County Executive Directors presented this opportunity to the Foundation to come alongside them and partner on a year-long professional development and capacity-building experience for our not-for-profit leaders throughout Hamilton County," said Jeena Siela, Senior Community Leadership Officer for Hamilton County Community Foundation. "We remain committed to utilizing our resources, including the Collaboration Hub, to advance community collaboration and engagement as we strive to build a stronger not-for-profit ecosystem alongside our Executive Directors."
The next training session, "Thriving, not Surviving in the Executive Director Role" is set for Tuesday, August 8. Executive directors will learn how to avoid burnout in a high-stress position, learn strategies for self-care while fulfilling multiple roles with the organization, and find motivation to excel as a not-for-profit leader. 
---