The Indianapolis Foundation hosted a community meet and greet at Newfields. This event convened like-minded community-oriented people to meet with the new leadership of The Indianapolis Foundation.
The event program began with a welcome from Jerry Wise, chief financial officer for Newfields, and Molly Chavers, the vice chair of The Indianapolis Foundation, followed by a brief speech from Lorenzo Esters, the new president of The Indianapolis Foundation.  
Read a short snippet of his remarks: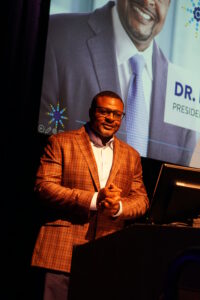 "If I love you, I want you to have quality food, attainable and sustainable housing, earn a livable wage, and be educated. Above all, if I love you, I want you to experience a full measure of dignity and respect, belonging, and a sense of community filled with joy, happiness, and love.    
My commitment to you is the three Ps. We will always be on PURPOSE, laser-focused on our mission statement, equitable opportunity for all, regardless of race, place, or identity.    
And yes, that commitment does include a focus on dismantling systemic racism that ultimately manifests as inequality in so many areas of our community.    
I will always focus on PEOPLE, internal staff, and centering community voices.    
And finally, I will always focus on PROGRESS. The power of a community foundation is in its ability to partner with community donors to do the impactful work needed to strengthen our city. We will achieve our impact in partnership with and through others. My vision is simple.    
My vision is that together, we will make The Indianapolis Foundation one of the nation's most relevant and impactful community foundations. Are you ready for love?" 
In addition to introductions and Lorenzo's speech, programming included a panel discussion moderated by Carolene Mays, Community Link host for Wish TV and founder of Black Leadership and Legacies Incorporated. Panelists discussed opportunities for Indianapolis and advised Lorenzo in his new role as the president of The Indianapolis Foundation. Panelists included:    
Marlene Dotson, president and CEO of the Indiana Latino Institute 

 

Vop Osili, counselor of District 11 and president of the Indianapolis City-County Council 

 

Jim Schacht, vice president of corporate responsibility for Cummins Incorporated 

 

Howard Stevenson, founder and CEO of Project Free University Incorporated 

 

Ruth Watkins, president of post-secondary education at Strata Education Foundation 

 
The theme of the entire evening was love, and for everyone who attended, it was clear to see. It is amazing what happens when you love your community out loud!
Stay tuned as The Indianapolis Foundation launches Love Out Loud, a newsletter dedicated to elevating inspiring stories from the community, arriving at inboxes throughout Indy in 2024.
Watch a video from the event below. The following video is available with English and Spanish subtitles.