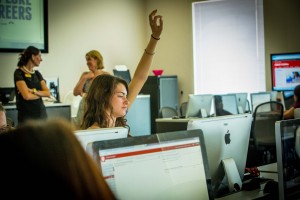 Nine students from Marion County have been named recipients of four-year, full-tuition scholarships as The Indianapolis Foundation 2016 Lilly Endowment Community Scholars.
A total of 66 Marion County students were interviewed for the scholarships, which stipulated that recipients must: be a resident of Marion County; plan to pursue a full-time baccalaureate course of study beginning in the fall of 2016 at a public or private college or university in Indiana; demonstrate an unweighted GPA of at least 2.5; demonstrate financial need; demonstrate leadership or initiative in their school or community; and promise to, upon graduation, give back to the community.
The following nine students were selected as scholarship recipients: Ernesto Cabrera, Warren Central High School; Michelle Frustereo, Perry Meridian High School; Alvin Laguerre, Lawrence North High School; Dan Ntala, International School of Indiana; Delfina Sanchez-Pernisola, Crispus Attucks Medical Magnet High School; Htayni Sui, Southport High School; Anis Tai, Ben Davis High School; Andrew Tucker, Scecina Memorial High School; Joevita Weah, Cardinal Ritter High School.
Each student was nominated by his/her guidance counselor before being invited to complete an application and interview with The Indianapolis Foundation, a CICF affiliate serving Marion County. Any accredited high school could nominate up to two students in each county. Following the application and interview process, the finalists' names were submitted to Independent Colleges of Indiana, Inc. for final approval.
A total of 142 scholarships were awarded in Indiana and are the result of a statewide Lilly Endowment initiative to help Hoosier students reach higher levels of education. Indiana ranks among the lowest states in the percentage of residents over the age of 25 with a bachelor's degree.
Read about Lawrence North High School recipient, Alvin Laguerre.