***This piece is part of our content presented at Inclusive City 2020. On Oct. 28, 2020, from the stage of the Madam Walker Legacy Center, we revealed plans to dismantle systemic racism in Central Indiana at Inclusive City 2020. Learn more about that event here.***
---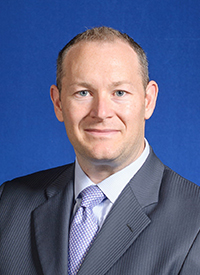 from Tom Kilian, president of Hamilton County Community Foundation
Tremendous strides have been made in Hamilton County since Inclusive City last year, but there is still work to be done, like everywhere, to make our cities and towns a more equitable place for all. Equity is the cornerstone of all of the work that we do at Hamilton County Community Foundation. This is most evident in our newly formed Opportunity, Equity and Inclusion committee and our Inclusive Economic Growth Pillar of the strategic plan. We also are proud to join the grassroots racial equity groups that are established in most of our cities in the county. And, many of our school districts are leading the conversation around racial understanding and learning. We're very proud of Mayor Scott Fadness, and the leadership he, in particular, is providing in this space.
We are not the same Hamilton County that we once were. Our population is growing and quickly changing – with the expectation of people of color in our county increasing by 10-15 percent in the next five years or so. With increased diversity in the county, we must work to ensure that everyone feels welcome in Hamilton County regardless of their race, place or identity. We are partnering and working with local municipalities to provide training opportunities like "Interrupting Racism" and we are supporting grassroots organizations who have formed to grow local diversity, equity and inclusion efforts. Hamilton County Community Foundation will work with the Noblesville Diversity Coalition, Westfield Forward, Carmel Against Racial Injustice, and Fishers Racial Equity Community Network. The committee will hold the foundation accountable for equitable policies and practices both internally and externally.
We believe that as Hamilton County continues to grow, it is imperative for us to focus on inclusive economic growth.
This inclusive economic growth will be supported by the creation of pathways to long-term employment, affordable housing, and county-wide connectivity, most importantly for those facing the biggest barriers.
We know the housing we build is too scarce and too expensive to meet the needs of a growing workforce of varying backgrounds and levels of income.
To combat both of these issues we are supporting two unique workforce development opportunities.
The first is FutureWork Lab at Ivy Tech Noblesville, which is a place for anyone in the county to access classes and programs to re-skill or skill-up to meet the changing technology requirements of today's jobs.
And, the second, the Hamilton County Workforce Innovation Network, or HC WIN, which is a collaborative workforce development effort between local business partners, K-12 institutions, higher education, and local and state community agencies to provide in-demand workforce solutions in five key sectors:
advanced manufacturing
agricultural technology
construction
healthcare and innovation
and information technology
Hamilton County Community Foundation is also advocating for more affordable housing options and partnering with developers and municipalities across the county to be thoughtful and inclusive as population growth continues to occur in our communities.
We look forward to reporting back to you next year on all our progress.
---
UP NEXT: Women's Fund of Central Indiana commits to action